On Sunday, February 10th, 2019, at 9:30 am, a charity tournament in Marakana (Ypsonas) is being organized, aiming at financially strengthening our fellowman, Marios Sofroniou, who has recently moved to Germany for a transplant.
This football tournament is meant to send a message of humanity and financially support our friend Mario. It is a matter of mood to contribute in our own unique way, to the difficult struggle of our fellow man. The costs to be borne by the family are enormous, so this charity tournament is being organized.
Come with your team to compete in the face of healthy competition and charity. Let's all play football for Mario, sending him a strong message to Germany.
YOU ARE NOT ALONE! NOT NOW. NOT EVER. DO NOT GIVE UP!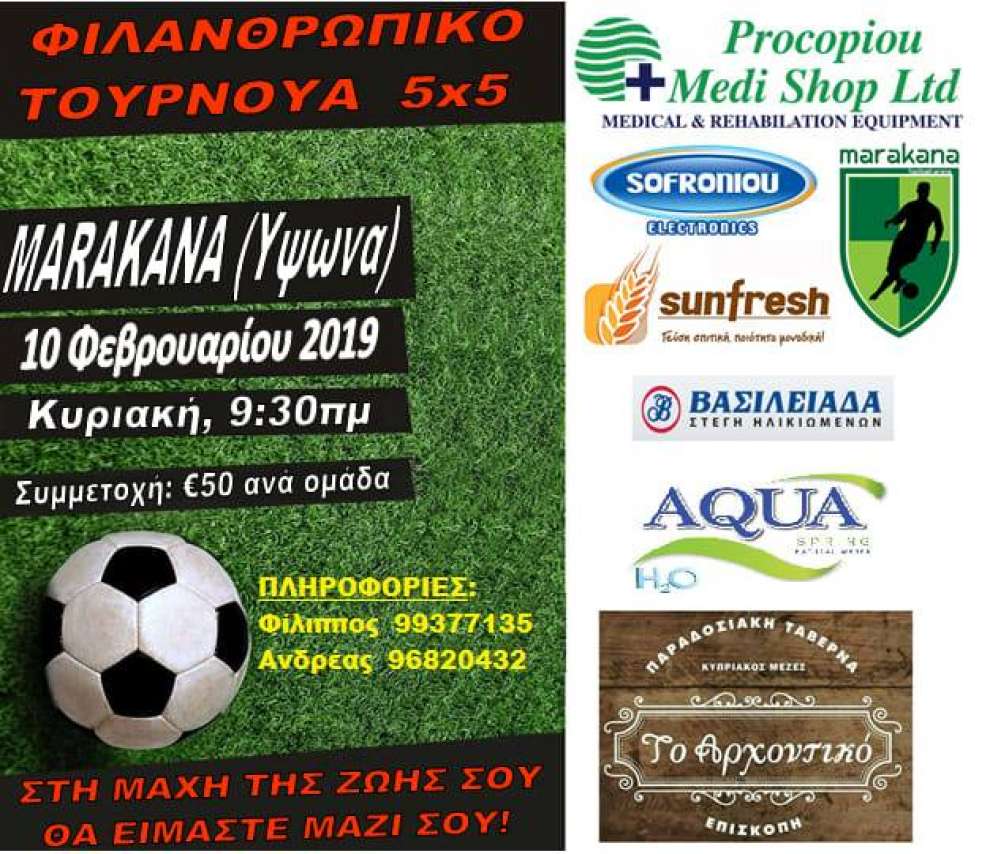 The Charity Tournament is supported by the following sponsors whom we would like to thank warmly:
* Marakana Arena in Ypsonas: Providing the stadiums
* Prokopiou Medi Shop Ltd: Granting one layer to the Hematological Section of Limassol General Hospital, by the winning team.
* Sofroniou Electronics: Delivery of an electronic device to the Hematological Department of the General Hospital of Limassol, by the finalist team.
* Old and Disabled Roof "Vasileadas": Granting the trophies and medals for the winners.
* Tavern "Archontiko" in Episkopi: Give a dinner for 6 people to the winning team.
* Water AQUA: Water supply to the event
* Sun Fresh bakeries: Salt provision at the event.
Declare your team's membership in time for better organization of the tournament.
Contact numbers: Philippos: 99377135 or Andreas: 96820432
Facebook