Nina Sumarac Jablonsky, is a visual artist born in Belgrade and for the last 18 years, she lives and works in Limassol. She holds a Master in Mechanical Engineering and Postgraduate diploma in Fine Arts.
From 2001, Nina Sumarac Jablonsky had ten solo exhibitions. She received many prestigious awards and participated in numerous international exhibitions and competitions in Cyprus and abroad, evolving into an acclaimed painter both locally and internationally.
Nina makes paintings, drawings, photography, digital graphics and various media art. By merging several seemingly incompatible worlds into a new universe, Sumarac Jablonsky aims to amplify the astonishment of the spectator by creating compositions or settings that generate tranquil poetic images leaving residual traces and balances on the edge of recognition and alienation.
In her work fiction and reality come together, well-known tropes merge, meanings shift, past and present fuse. Time and memory always play a key role. Taking a conceptual approach, she explores a diverse range of subjects polyphonously.
Her work directly responds to the surrounding environment taking everyday experiences as a point of departure to investigate nuanced representations. Often these are framed instances that would go unnoticed in their original context. By applying a poetic and often metaphorical language, she uses a visual vocabulary that addresses many different social and philosophical issues. The work incorporates time as well as space – a fictional and experiential universe that only emerges gradually. The possibility or the dream of the annulment of a (historically or socially) fixed identity is a constant focal point.
We had the pleasure to meet and discuss with the artist, about her work, her inspirations as well as why she chose Cyprus.
I came to Cyprus during NATO bombing of Serbia 1999. In that time, Cyprus and Cuba were the only two places in the World accepting Serbian refugees. I am grateful to Cyprus and its people. I love this country from the bottom of my heart. It is my home and my shelter. Proud to be called Cypriot artist.
From where do you get your inspiration, what does inspires you?
Inspiration comes in many forms and indeed through various sources none of which, as I am consistently reminded through my work, are entirely synchronic nor operate within a vacuum. The very nature of daily global and biopolitical narratives, which form the fabric of our consciousness are in a sense revisitations of 'past' wounds and glories set to contemporary melodies/cacophonies. These evolutionary overlaps, which articulate the multifaceted nature of the human condition and our socio-cultural relations, have enthralled me to the point of deep fascination generating a will to construct works that act as grounds for hope and optimism. This meta-narrative, which ripples throughout these captivating projects, has come about by exploring these synergies within different mediums over time. As the following overview makes clear, the journey of residual effects is ongoing and evolutionary gaining momentum through the provocation of unchartered frontiers.
Identity and reality are neither maintained nor achieved through a single intrinsic or extrinsic definition, as our cellular transcript is diachronic, not static. Everything is a unique combination of everything; an important reminder during these turbulent times of shifting nations and mass migration. We are many and we are one. No matter what our origins, our human DNA is constantly evolving due to environmental, technological, cultural, political, economic, emotional and personal circumstances.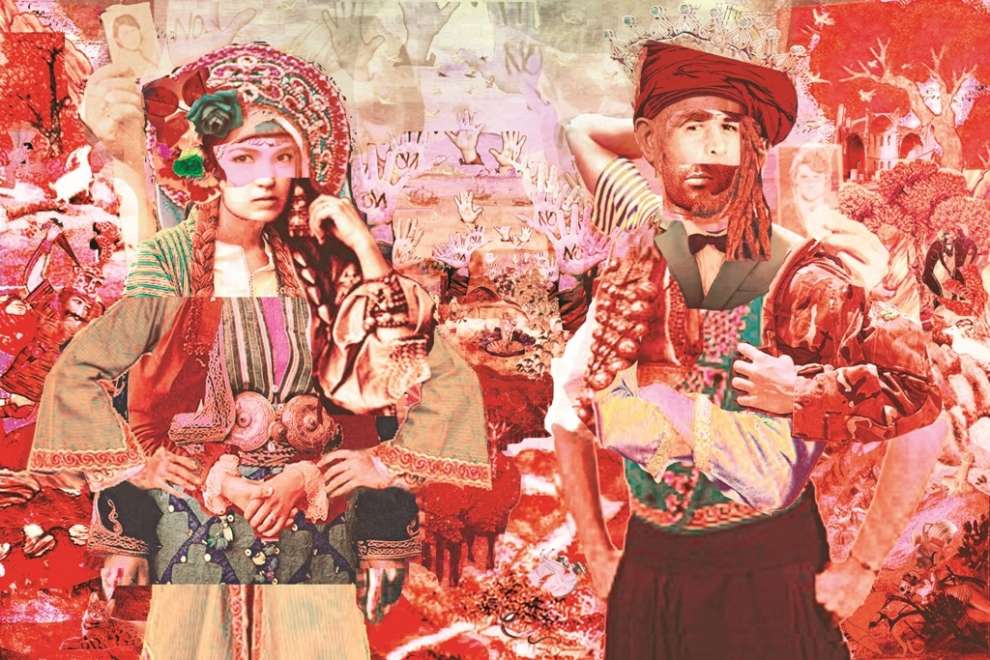 Through my work, I am trying to explore the possibility of accepting and glorifying this reality in terms of understanding the fluid nature of identity. Can our collective love, potential and dynamism transform the conflicts of today into tomorrow's Utopia? Present and future generations need to be inspired and energized by the mystic beauty of this possibility in order for us to face our present and future challenges with compassion. As Dostoevsky remarks 'Beauty will save the world', not a careless phrase but a prophecy with profound insight...."
You have participated in many solo and group exhibitions worldwide, can you tell us more?
Since 2001 I have produced 5 deferent serials 2005-2011 "Letters Home" in which are parts of "No Place Like Home", "Family Portraits", "My Animal and Other Families" and "Far Away Like Home", 2012 "Daemons" and "New Order", 2013 "The Cut or Uninterrupted Stare" with "Synergies" and "Demons", and last from 2014 in "Take All Of Me" (or MULTIVERSE). I had 10 solo exhibitions and participated on numerous group projects. I had exhibited in Cyprus, Switzerland, Serbia, France, England, Bulgaria, Greece, Italy, New York, Korea, Skopje, Slovenia, Croatia and Berlin.
What are you working on, this period?
As Serbian/Cypriot artist I am very thankful to the curator, Dr. Nadia Anaxagorou for giving me the opportunity to present my point of view at The Exhibition for Honouring hundred-year anniversary from the death of Vasilis Michaelides, at Limassol Muncipal Gallery, from 10th November - 27th December 2017. The work "Paramythia" is part of serial MULTIVERSE and is inspired with poems by Vasilis Michaelides "The Ninth Of July 1821 or The Song Of Kyprianos" and "The Woman of Chios". History is polyphonous. Every nation has its sorrows, like Vasilis Michaelides says.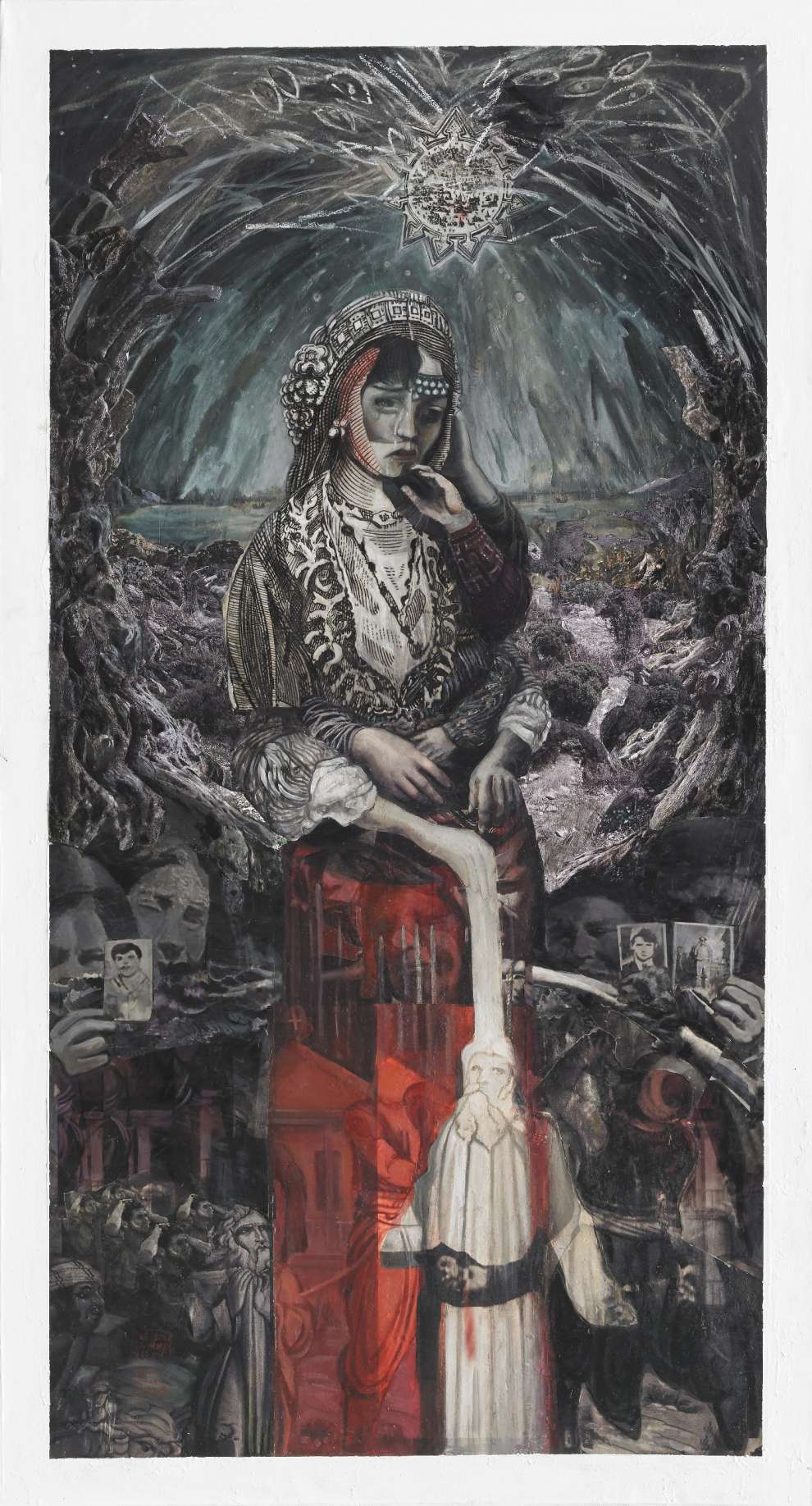 History is polyphonous. Every nation has her sorrows, like Vasilis Michaelides says. National sorrow, pain, and suffering that originate from contemporary and anachronistic ideologies about heritage, identity, and heroism are transplanted from one generation to the next. This collective praxis takes root in memory and runs through the veins of lineage as a residual and cyclical discourse inciting fresh pain, fear and anger drawing a parallel between past and present traumas. Time and time again, in near and distant lands, there is always blood that is shed and mothers that cry. As long as we do not forgive, we will always be caught up in a relentless cycle of repression, repetition and pain.
Taking forward these thoughts, and parallel with serial "Multiverse", I am developing extension part "Arcadia" and new serial of works "Meatnoia" which will be ready for preview one in spring the other in autumn 2018. I still did not decide yet if it will be in Cyprus or abroad.

Nina Sumarac Jablonsky received several prestigious awards such as:
1st prize in Digital Art at XII International Women Painters, Serbia
Selected two times as one of the finalist at 1st and 2nd Santorin Biennale, Greece in 2015
Honorable Mention from the Jury of T.I.N.A. - prize for Lisbon-Los Angeles-San Paolo as one of "20 Worthy international artist according to the jury"
Selected for 2nd FRESH -The Modern Portrait, JanKossen Contemporary gallery, New York
Selected for 2nd FRESH for the 44th Osten Biennale Of Drawing Skopje 2014, Macedonian Academy of Art
Double finalist on 2nd LYNX International Art prize 2016 in two categories receiving 1st prize in Digital Graphics given by The Associazione Culturale il Sestante, Italy
One of the ten short listed artists for the 1st Social Art Award, Berlin for Art engages in questioning and rethinking existing systems and paradigms
Selected one of the ten artists for this year's October Salon, Pavilion Cjeta Zuzuric, Belgrade and for 49th Golden Pen, and at The 14th International Biennale of Illustration, Progress, Belgrade.

Some of her work became part of permanent collections such as: The State Gallery of Contemporary Cyprus Art, Historical Archive Pancevo, Serbia, World Gallery of Drawing, Skopje, The Byzantine Museum and Art Gallery of the Archbishop Makarios III Foundation, Nicosia and recently at CICA Museum, South Korea.