Burgers lovers!
Top burgers in Nicosia?
The most delightful burgers in the Capital of Cyprus!
But how did you not find it yet?

Opos prepi
"As should" means red juicy burgers in the middle, and this is the philosophy of the eponymous shop.
Meat: 100% Black Angus beef in size (Slim) 150gr., (Classic) 200g. and (Challenge) 300g.
The bread: fresh, soft brioche and if you want to 'hurt' a little, ask the Indian bread 'naan'.
Potatoes: Classic crunchy fried potatoes and fresh homemade chips.
Try: The new 'Magic Mushroom' with Portobello mushrooms sauteed with balsamic vinegar and fresh herbs, served with mature Swiss gruyere and accompanied with green salad.
(€ 9 - 150 gr., € 10.50 - 200g. & € 13.80 - 300gr.).
(22100999) Aristotelous 9 (Lane Onasagorou), Nicosia. M-S 12.00-23.00


Moondog's Bar and Grill
With exceptional burgers and delicious sandwiches, Moondog's caters to those who know, understand and appreciate the hearty dishes, as well as to all those who love the American style of eating and can consume it. The choice that has everything in common and includes crisp bacon, cheddar, fried egg, caramelized onions, tomato, cabbage and BBQ sauce - I do not think you need anything more. You may not find it better, but you will find something different in the menu. With coconut and shrimp sauce, you will be excited and happy.
(70006300) of Mycenae 7.
The Gym
Gym-wraps our aesthetics, upper and lower jaw. The Gym is a beautiful place that offers us a lot of things, including a tasty burger. Tasteful enough to enjoy and savor, with its potatoes, tomato, onion and cheese. The American gastronomic dream in all its grandeur.
(22002001) Offshore. M-S 09.00-02.00.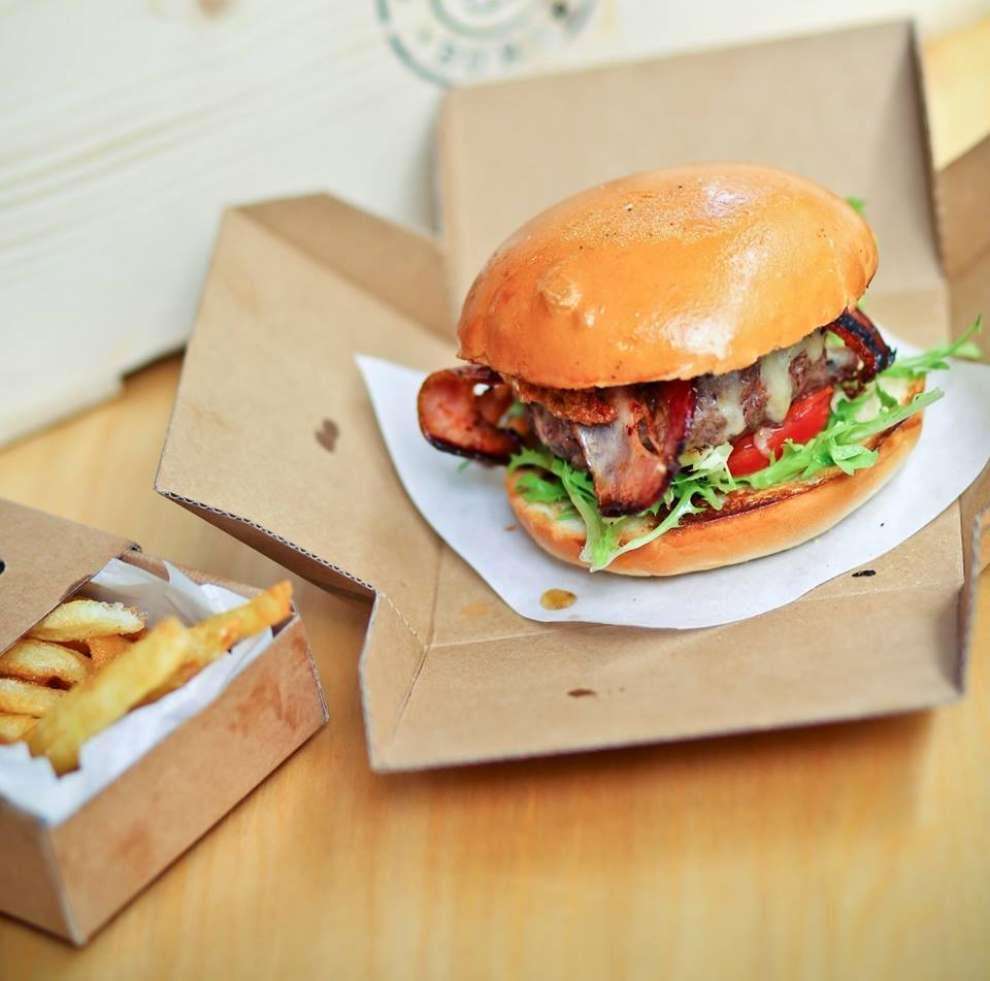 Artisan's Burger Bar
Exclusively for lovers of good, tender, delicious and special burger. Here you will not even have a burger. Here you will enjoy different and delicious burgers that, in addition to fresh ingredients and special taste, have a lot of imagination. but also healthy eating. If for some indefinable reason you do not want to eat fresh homemade beef burger, you can replace it with chicken, salmon, shrimp or vegeterian burger.
(22759300) Stasandrou 20. D-Thu 12.30-15.30 & 19.00-22.30, Fri 12.00-15.30 & 19.00-23.00, Sat 12.00-16.00 & 19.00-23.00, S 12.00-16.00 & 19.00-22.30.
D.O.T.
One of Nicosia's special shops. The dishes are delicious, rich and intense. His burger is one of the best sellers in his menu. A large burger, richly flavored with herbs, well-baked, with tomato and cabbage, fresh potatoes and choice of sauces ...
(22101228) Athena 6A. D-Fri 12.00-16.00 & 19.00-23.00, Wed 11.00-15.00
Tip: Watch the video, jame oliver is making a delicious italian burger.!!!!
Enjoy!!!