Monday 13/01/2020
The Happy Chinese Spring Festival Fair Cyprus 2020 will be held at Agora Anexartisias street Limasso.

The event time:
Jan.18th 12:00-22:00
Jan. 19th 12:00-20:00
The event will be free of entrance.

Opening Ceremony
Saturday, January 18th 2020, 12:30
Agora Anexartisias street Limassol

Feature events include exhibition, show and Chinese cocktail party:
-Music and Dance Performances by Pengzhou Art Troupe,Cypriot art schools and Chinese in Cyprus.
-Chinese Master Chef Live Cooking Show and food tasting
-Traditional Chinese painting Exhibition
-Traditional People Kneading
-Chinese traditional culture and merchandise show including silk, tea art, various folk goods
-Games:riddles,throwing rings
-Purchase more than five euros at any stall you can get a raffle card.The whole lottery will be placed every hour sharp with plenty prizes up to 450 Euros!!!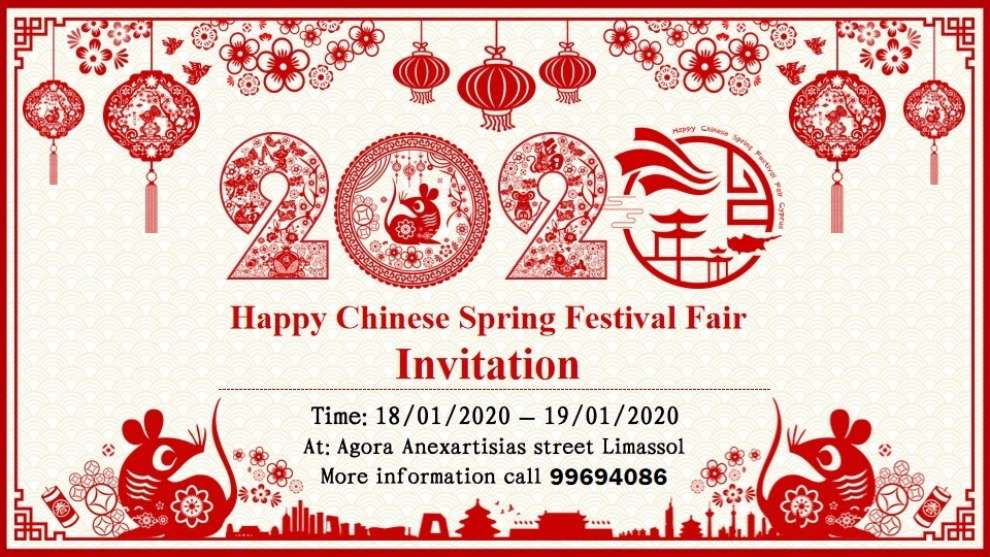 Organizers:
- Limassol branch of Cyprus Chinese Friendship Association
- Chinese volunteers on the island

Special Support:
-Municipality of Limassol
-Embassy of the People's Republic of China in the Republic of Cyprus
-Agora Anexartisias
-Pengzhou Municipal Government
-AIMIS, American Institute of Minimally Invasive Surgery
-Svaleno Properties
-Ousai properties
-YJ Cyprus Universal Inverstment LTD
-CCS Stylianides Group

More information call 99694086