The Impressive Show, "Christmas and the Snow Queen Circus Show" is coming to Cyprus
For 2 unique shows in Limassol and Nicosia on December 21st and 22nd, 2019
The main show of this winter! Just before Christmas, you, along with Santa Claus and polar bears, will go on an exciting journey to the land of the Snow Queen.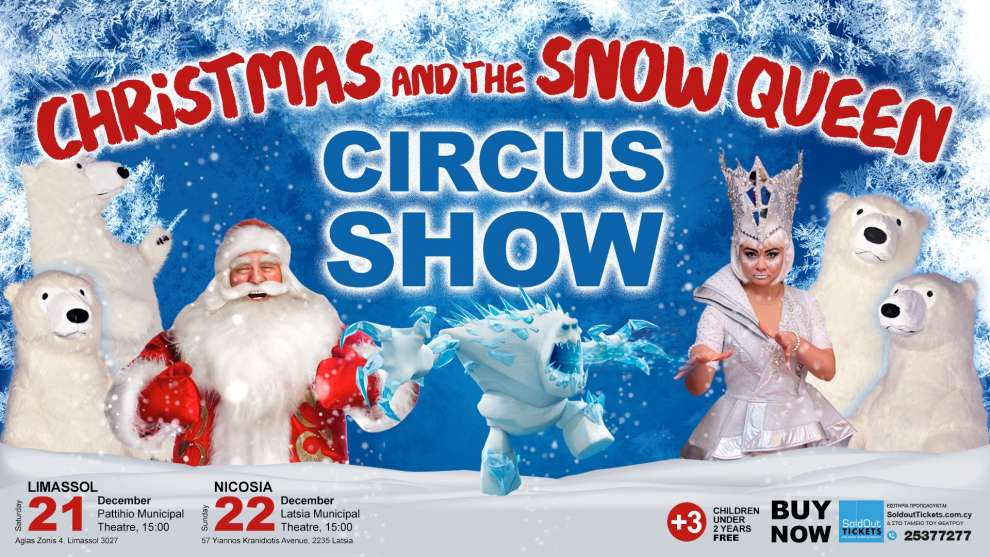 Adventures and dangers will await you at every turn. The ice monster will defend the Snow Kingdom. The citizens of the Kingdom will try to melt the heart of the Snow Queen, but Santa Claus and his friends will help us win. You will see laser lights and huge snow balls.
And the biggest gift for Christmas! Free photo with Santa Claus, his faithful polar bears and the Ice Monster.
Faster to the CIRCUS!


Saturday December 21st: "Pattichio Municipal Theater", Limassol 15:00-16:30
Sunday December 22nd: "Latsia Municipal Theater", Nicosia 15:00-16:30
Ticket price: for children - 15 euros, for adults - 25 euros.
For children under 3 years free.
* Also free photo shoot with Santa Claus, Polar Bears and Snow Queen.