The 4th "Cyprus Hip-Hop Festival" will be held for the fourth consecutive year in the heart of Old Nicosia, on RED Music Stage, on the 26th of August. All those who love Hip-Hop music are invited to attend a unique and frantic night Will travel them together with DJs, MCs, Graffiti and Breaking.
Schedule of the evening
17:00: B-Boys and B-Girls with dance battles and cyphers and DJ Mike WIldCut in the music. They will be there, Bassick Crew and True Enforcers of Advance Movement. On the street outside the venue, graffiti artists will be able to paint on special panels - bring your sprays! StreetArtCy.com will be on the spot supporting the event.
20:30: Decks Dj Bkas and the microphones will light for the Open Mic phase! Cyprus Beatbox will be there for their own unique show.
21:00: Live shows of MCs with DJ Bkas and DJ Andreas Alex aka Ice in decks. This year Stixoima and Adespoto (RNS) from Greece will be joining the stage together with the local bands and MCs promising a great show!
Hosts of the night is Dimitris Mentzelos from Greece, member of the infamous band Hmiskoubria, and Epikos Rapsodos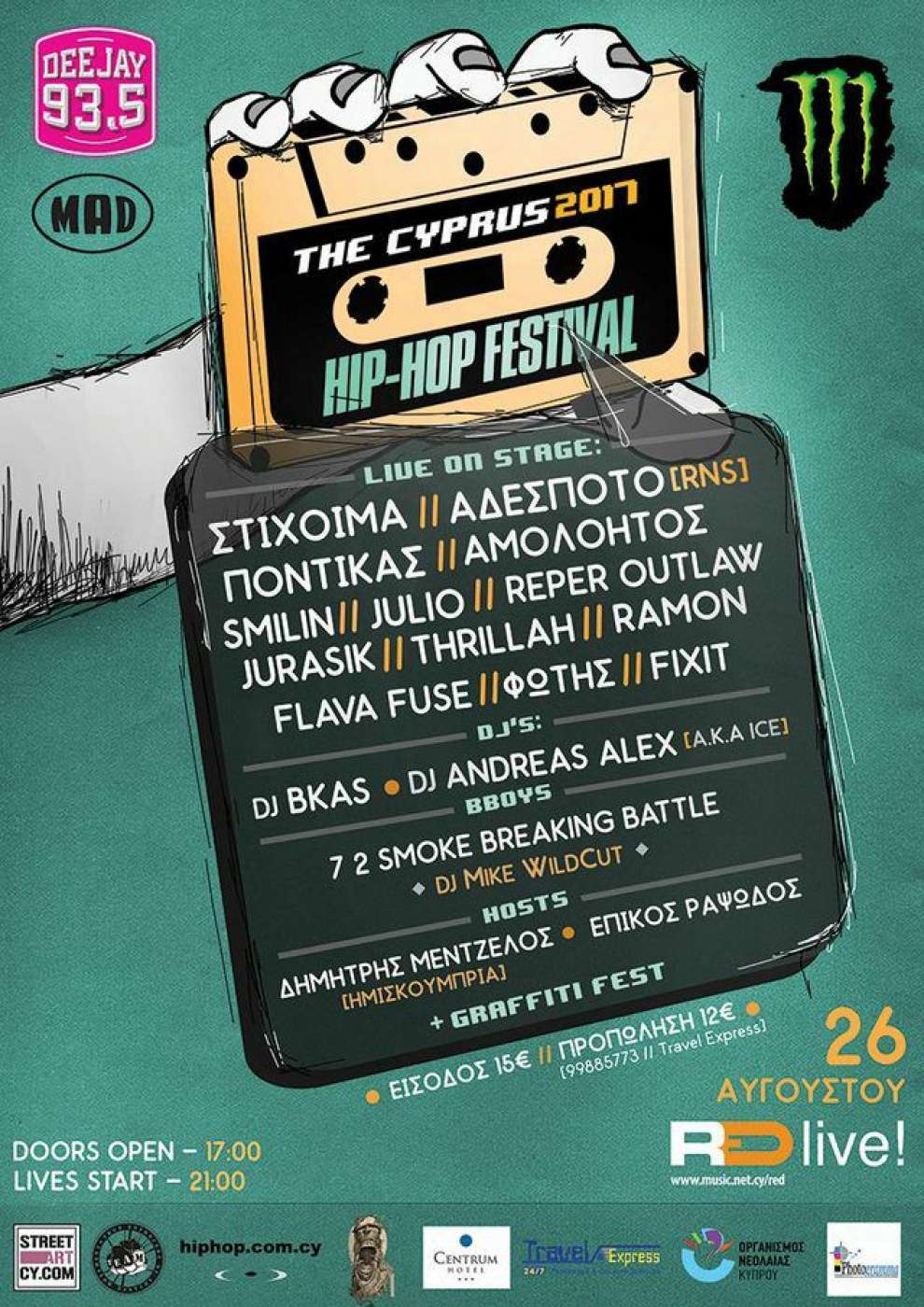 Entrance: 15 euros
Ticket pre-sale: € 12 at the Travel & Express headquarters or at 99885773.
DJs:
DJ Mike WildCut , DJ Bkas , DJ Andreas Alex aka Ice
Live MCs:
Stixoima , Adespoto (RNS) , Julio , Smilin , Pontikas , Amoloitos , Flava Fuse , Reper Outlaw , Jurasik , Thrillah , Fotis , Fixit
Organizers:
Organizing festivals: Andreas Alexandrou a.k.a. Ice with the help of Anastasis Louka (Smilin), Andreas Constantinides (MegaHz), www.hiphop.com.cy, D-Prank and Sharky (Bassick Crew), Jay Stamataris and Noutsa Snouts (True Enforcers of Advanced Movement), www.streetartcy.com and the rest of the Cypriot Hip Hop community.
Sponsors:
Deejay 93,5
Mad TV
Monster Energy
Οργανισμός Νεολάιας
Travel Express
Centrum Hotel
Photogramma Ltd
Flyers / Poster design: Odysseas Vaggelis
(https://web.facebook.com/odieone)
Contact: 99885773