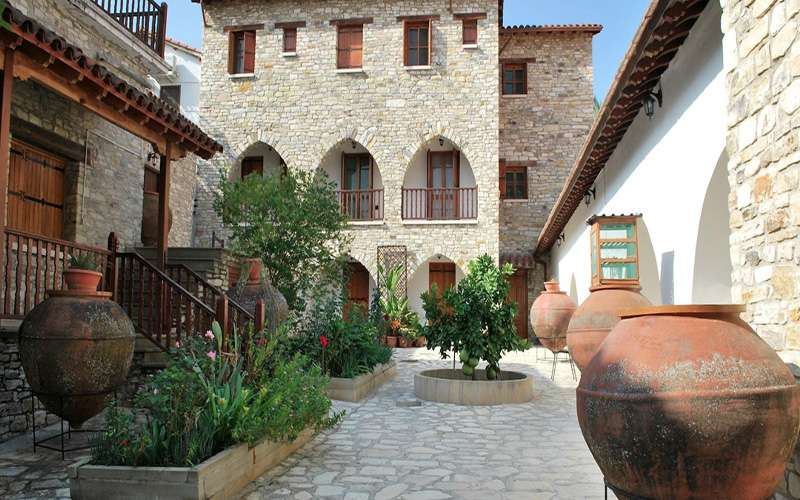 The Monastery of Ayios Minas (Near Vavla)
Magic place to visit, ideal relaxation!
The Monastery of Agios Minas is built in a verdant mountainous area of ​​the Larnaka province, on the outskirts of the village of Vavla, near the banks of the river Maroni.
The time of its establishment is not known. The first written testimonies of its existence date back to 1562.
In November 1737 Monk Vassilios Barsky visited the Monastery and described in particular the celebration of St. Minas, which is held every year. Many people gather from the surrounding towns and villages and, with the help of the miraculous icon of the Saint, they are being cured of many diseases. The convent was rebuilt in 1754 and decorated with wood-carved icons.
The wall painting of Agios Minas (1757) is the work of hagiographer Filaretos. After many difficulties the monastery was abandoned but in 1965 the Monastery was converted into a female monastery, a monastic group of monks who came from the monastery of Agios Georgios of Alamanos.
For thirty-five years (1969-2004), Archimandrite Leontios Hatzikostas, known for his rich religious and literary work, was ordained in the monastery.
Any visitor to this monastery can only be fascinated by the peaceful, idyllic and enchanting surroundings of the monastery, which the church is located in the middle of the monastery complex.
Around the church are the two-storey arches. The monastery began to re-open in 1965 with nuns who gave life to a male monastery which stopped working long ago.
The monastery celebrates on the 11th of November.
Working hours:
October - April, daily: 09:30 - 11:30 / 14:00 - 16:00
May - September, daily: 09:30 - 11:30 / 15:00 - 16:30
Group visits after prior consultation.
Operating Period: All year.
Closed at Public Holidays
Weekends: No admission to organised groups.
Entrance fee: Free
Disabled Access: Wheelchair accessible.
Hours of operation and entry price are subject to change without notice. Guests are better to confirm them before their visit.