The Paradise Jazz Festival, celebrates its 20th anniversary on Friday 23rd and Saturday 24th of August 2019, at Val's Place in Gialia Village, Pafos, with 6 shows (3 per night) plus 2 extra jam sessions, special guests and 27 artists with more to join the lineup.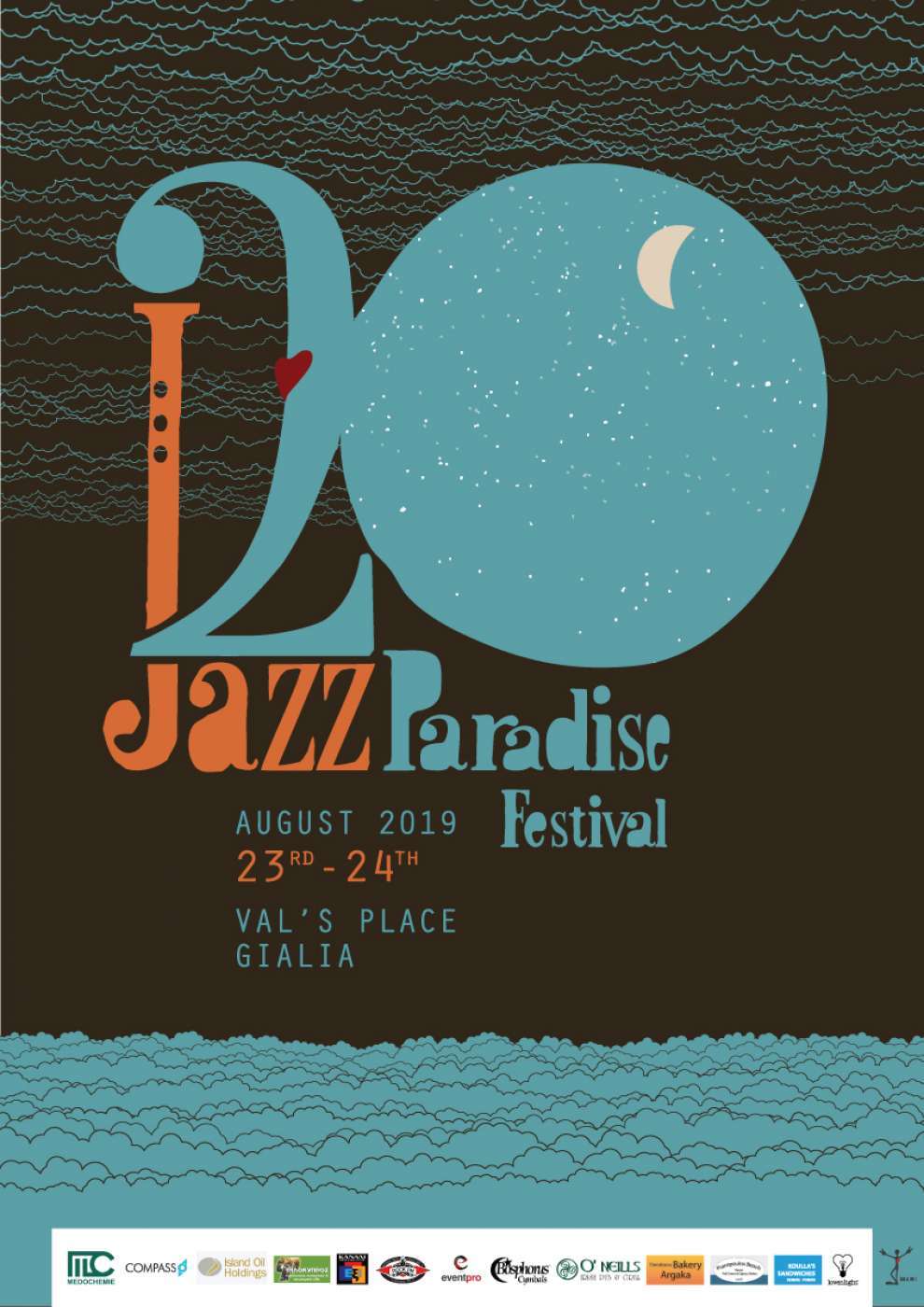 The Festival starts on Friday 23rd at 9.30pm with The Amalgamation Choir, an all-women choir created and conducted by Vasiliki Anastasiou. Their repertoire draws influences from musical traditions of islands and shores in the Mediterranean Sea. Strong acapella elements and polyphonic singing are balanced by thoughtful instrumentation and arrangements of sea-faring songs and original compositions in different languages. The choir will welcome on stage some of the members of the Cyprus Jazz Musicians.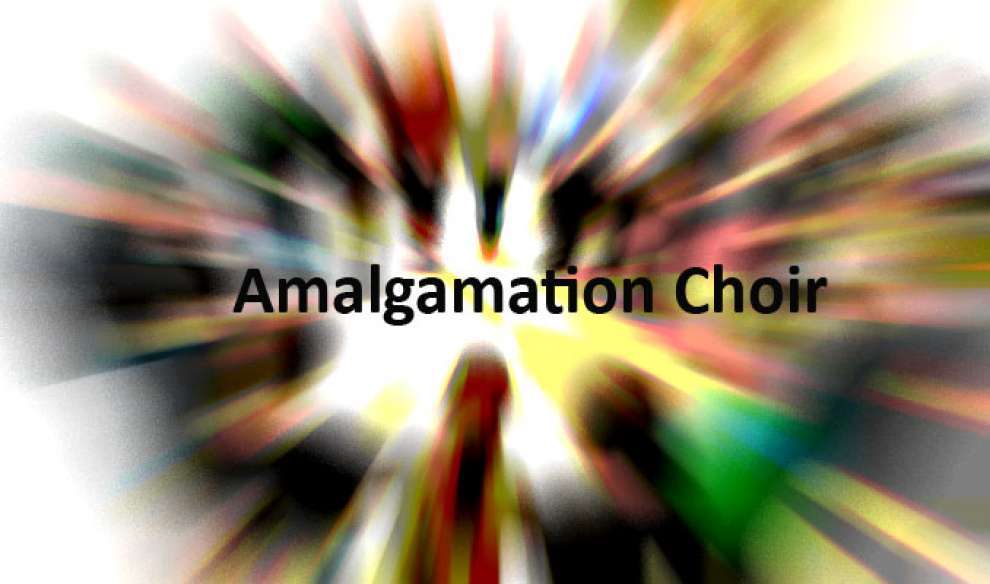 The next band on Friday night, at 10.30pm, is the Michalis Messios Symmetry Band, which feature some of the oldest figures from the Cyprus jazz scene. First appearing in 1993 with the name Petsteppers, they were later renamed M. Symmetry Messios Band and present mostly original compositions of Michalis Messios. The other three members of the band are Charis Ioannou on saxophone, Christos Yerolatsitis on piano and Ioannis Vafeas on drums. The artists are among the most active and dedicated musicians with notable participation in festivals in Cyprus and abroad, international jazz clubs, recordings, personal albums, theatrical performances and of course countless appearances at various venues and events in the island. The band presents mostly Michalis compositions characterised by both tuneful and intensely rhythmic patterns and improvisation.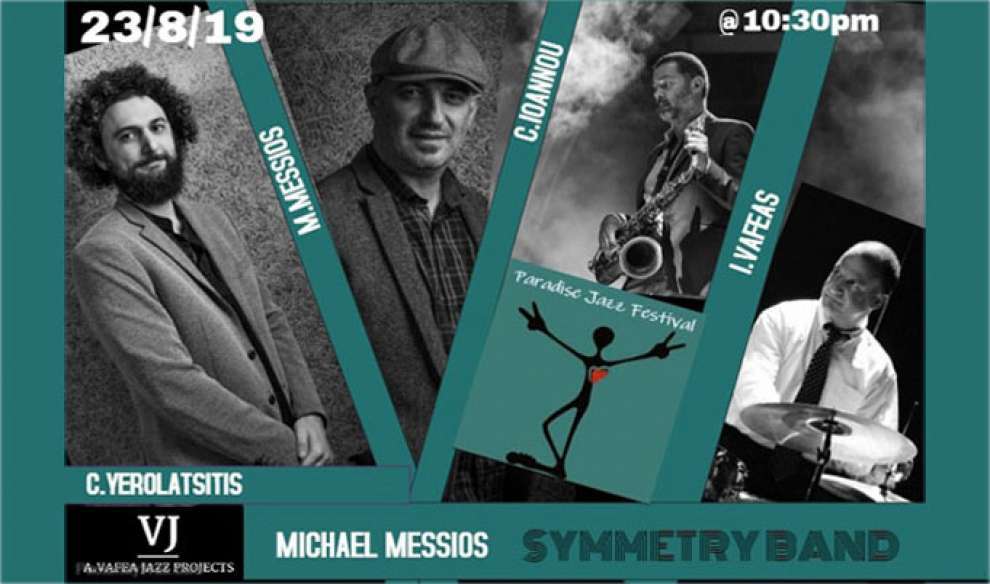 Lastly on Friday's, at 11.30pm, a project created by Cyprus- based guitarist and composer, Odysseas Toumazou. He recently completed the recording of his first studio length album "Ensticto". His work has been described as, "truly authentic and strong, personal sound within the guitar-trio-genre." His influences are wide and include jazz, classical and traditional music that create a unique sound catering to a variety of audiences. Improvisation is a key element of Odysseas' music, allowing for an immersive experience between the audience and band during performances that can be described as accessible and simultaneously experimental.
At Paradise Jazz Festival Odysseas Toumazou will be performing original pieces inspired by the traditional sounds of the island. The defining improv and jazz qualities mingled with Mediterranean influences is what can best characterise this fusion of sound. The artist is accompanied by George Koulas on drums and Andreas Rodosthenous on electric bass and featuring guest Michalis Kouloumis on Violin.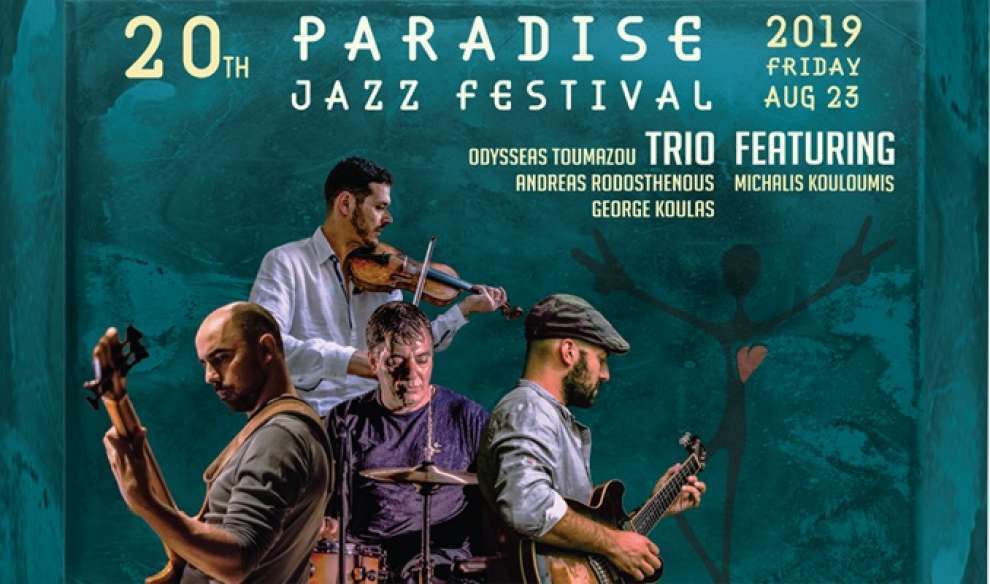 The night will end with the traditional Jam Session, where the Cyprus Jazz Musicians will mix in and improvise with unrestricted forms.
On Saturday the 24th, the night will start at 9.30pm with Nikos Charalambous Trio which is based on original compositions from Nikos, and a few cover songs from the Jazz, Pop/Rock world. The sound belongs in the modern jazz idiom and expresses a balance between strong rhythmical ideas and beautiful melodies combined with strange soundscapes and dreamy atmospheres. Nikos Charalambous is on guitar and compositions, Marijn Roeland Van de Ven on double bass and Omiros Miltiadous on drums.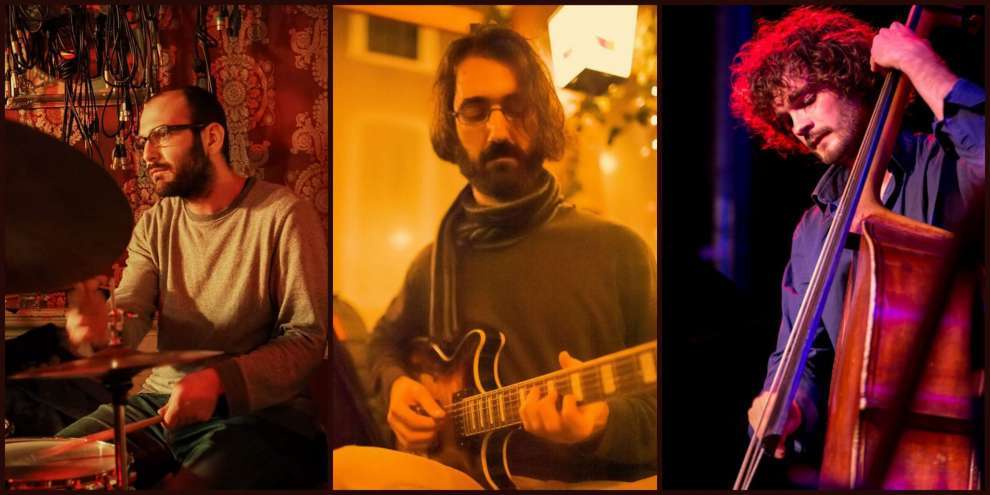 Alexis Kasinos Quartet will take over the stage at 10.30pm with Alexis' original compositions, recently released debut album Right Place, Right Time. Having jazz as a basis, parts of the album are also influenced from a modern era including a variety of rhythms that set the mood for each composition. Every single melody of the recording tells a different story that can be developed in the fantasy of the listener. The band members are Alexis Kasinos on guitar and compositions, Andreas Panteli on piano, Cahit Kutrafali on electric bass and Stelios Xydias on drums.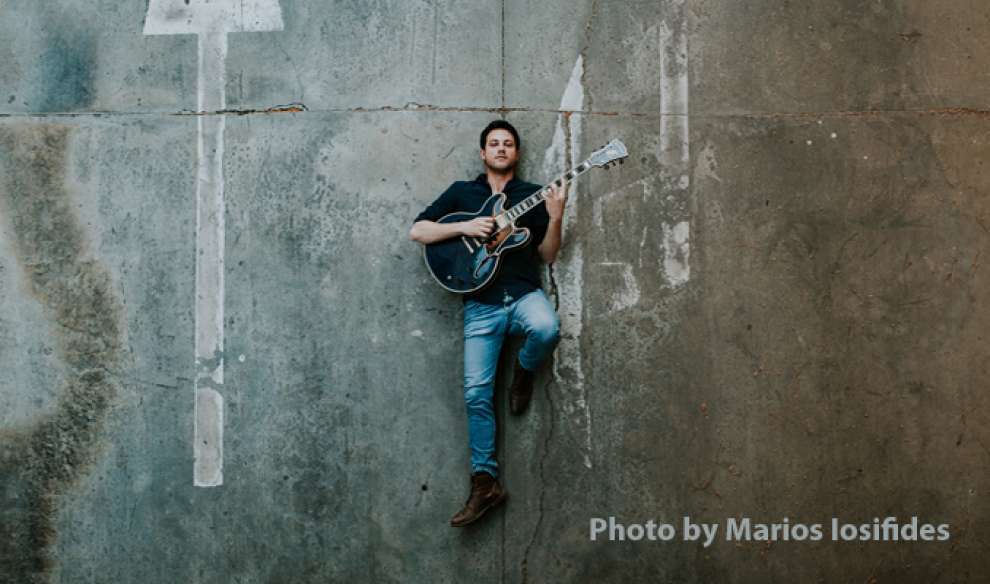 At 11.30pm. the highlight of 20th PJFestival, the Trio Misteriozo, will join forces with Rob van Bavel, one of the most well-known Dutch jazz musicians, pianist, educator, composer/arranger and winner of a number of significant awards. Rob has released more than 200 records as a sideman or as a leader, and he regularly plays with world-renowned artists. The Trio Misteriozo also includes three of the most active members of Cyprus Jazz Musicians and of course of PJFestival history. Ermis Michail on guitar, Giorgos Koulas on drums, and Andreas Rodosthenous on electric bass.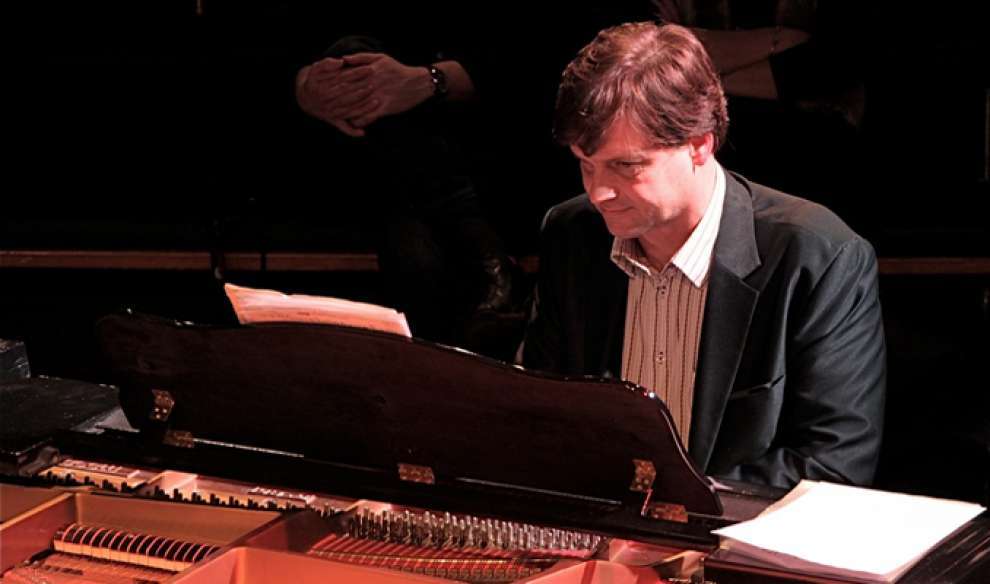 The festival will end with another popular Jam Sessions featuring all remaining Cyprus Jazz Musicians to celebrate this wonderful jazz meeting.
Due to this year's bigger production and the limited seating, the price of admission is €15 per night, while children under 14 years of age have free entrance.
You can purchase tickets only at the door on the night of the event but you can also book in advance by:
Email: paradisejazzfestival@gmail.com
Facebook: paradise jazz festival
Text: 97 747 327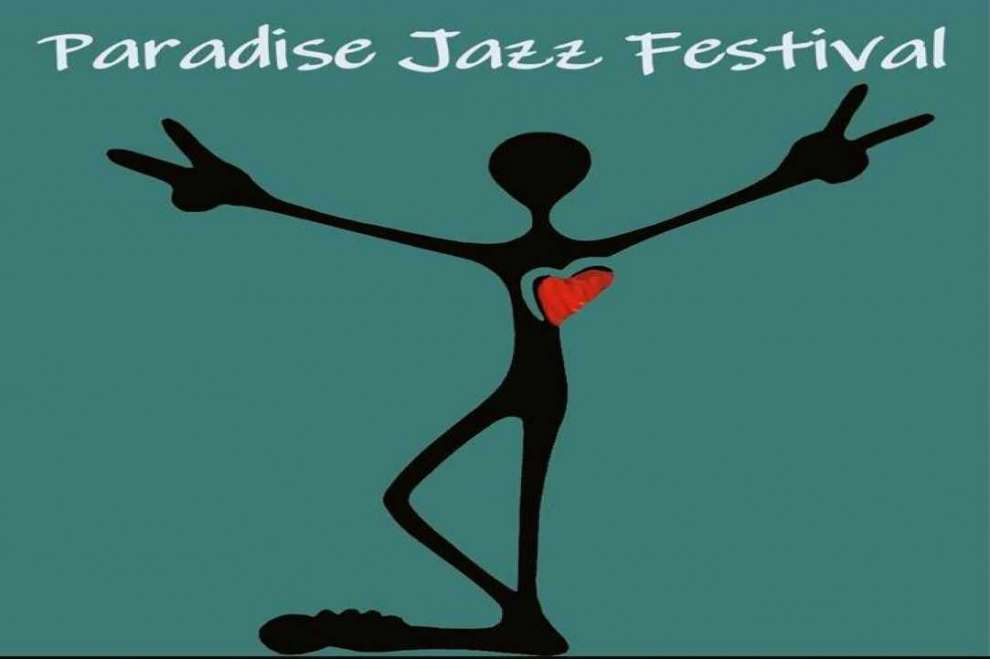 General information:
There will also be food and drinks available during the festival weekend.
Camping will also be an option for each night with a small fee.
There will be operating showers.
Bar opens all day with food and drinks
Gates open at 8 pm.
The Paradise Jazz Festival is an expanding group of friends who share a respect of nature and love of music who gets together once a year in a place full of inspiration, sunsets, moonrises, breeze, and sea to celebrate and share quality timeless moments …. Everything happens with a simplicity that is hard to find!.