20th Tour of Larnaca
The race is to be held this year in our city again
20th Tour of Larnaca
The race is to be held this year in our city again. Larger and stronger than ever!
On November 6, 2016, all roads lead to Finikoudes. For the 20th consecutive year the Annual International Road Race is organized, named "AROUND LARNACA".
Young and old, men and women, Cypriots and foreigners, sportsmen or not, will gather in Europe Square again for a different breakfast. A breakfast dedicated to sport, away from addictions, with dancing and loud music.
A route, which justly characterized by many as the safest and the most beautiful made in Cyprus, with athletes to cross the Beach Front of our city by the sea and in closed roads for all vehicles.
The race this year will be dedicated to children with special needs. These children will exhibit for sale their exquisite creations, they will run their own route, and they will dance, and will show us their own new sport, floor ball, giving us all life lessons!
Present at the event will include the Honorable Minister of Defense Mr. Christopher Fokaidis, the Substitute Mayor of Larnaca Mr. Petros Christodoulou, the city MPs and crowds.
This year's race is anniversary. Two decades has passed and we have arranged to be as impressive as possible.
This year, athletes, will be automatically timed with microchip and along the route there will be choirs and orchestral sections that will embellish musical path.
White balloons with the slogan, "all equal, all different", referring to people with disabilities, will be allowed to fly in the air, for the public awareness on the issue of acceptance of this category of our fellow citizens.
At the festival we will have representatives from Karaiskakio Foundation, who will make oral swab sample (saliva), for the registration of new volunteer bone marrow donors.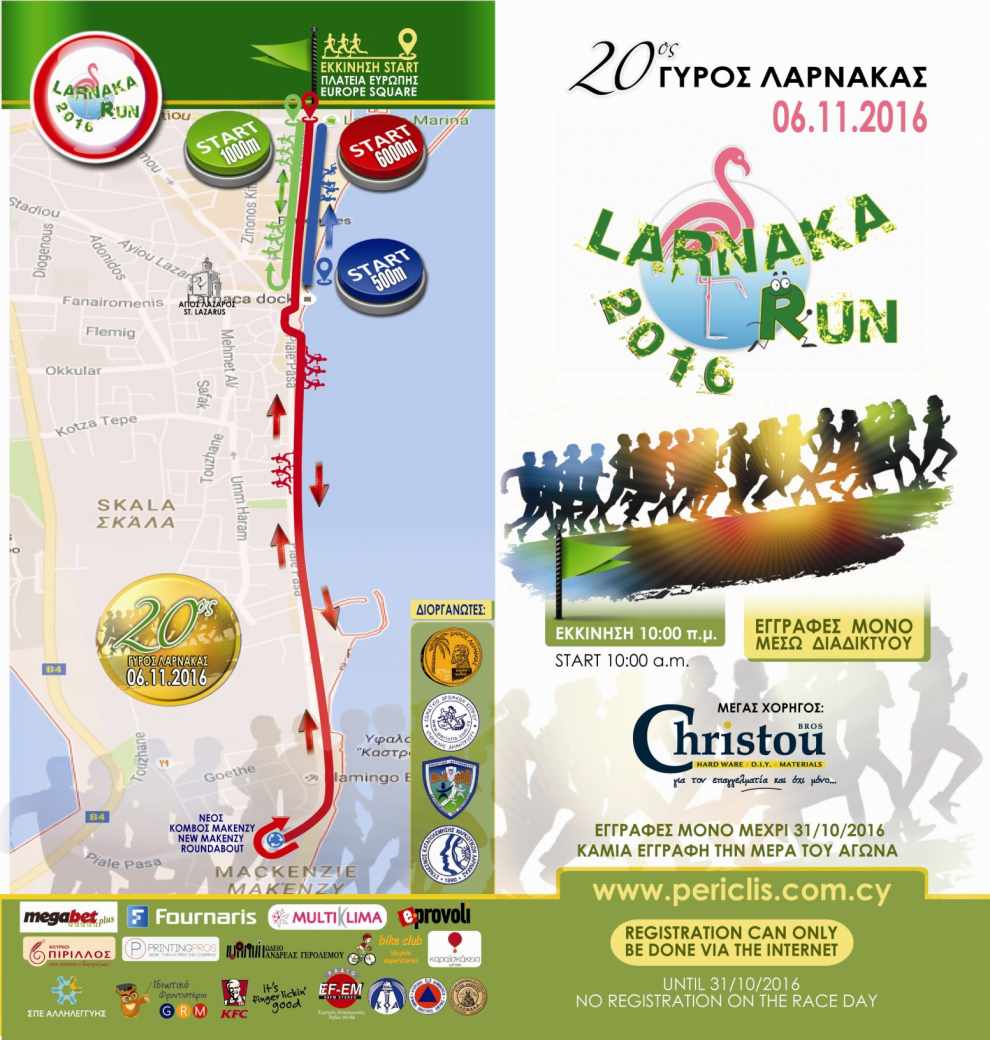 Distances: -6 km - main route
-1000m. for children 9-12 years
-500m. for children 6-8 years
-100m. for disabled
In the race it expected this year over 600 runners, establishing the ROUND OF LARNACA, as the largest race of its kind in Cyprus.
There will be cups for the first three winners of 18 categories and all who finish will receive a diploma.
All children who finish in small runs of 100, 500 and 1000 meters will get a commemorative medal.

Organizers: Larnaca Municipality, Pericles Demetriou Runners Association - Annex Larnaca, Larnaca Association of Anti Narcotics and Community Policing Kition.
Main Sponsor: Christou Brothers company.
Supporters: COM, Civil Defence, Andreas Gerolemou Odeon and Saint Lazarus Foundation.
Sponsors: Companies Fournaris, Multiclima, Pirillos Bakaries, Bike Club, SEA Solidarity Tutorial G.R.M., Megabet plus Company, and KFC Company.
Sponsors: Radio 99 FM and the magazine E-Provoli.
Sources: http://www.larnaka.org.cy/el/news/20os-giros-larnakas-larnaka-run-2016#.WBcF6_l96Uk
https://www.facebook.com/pg/Larnaka-Run-912476832133164/photos/?tab=album&album_id=912476915466489