The Flood Festival (Kataklysmos) in Larnaka 2019
Larnaka, the first city to start the Kataklysmos festival, prepares a unique and innovative program
The countdown for the three days festival of the "Kataklysmos in Larnaka" has began. For another year, Larnaka, the first to host this festival, has started preparing for the program of the three-day events.
Like every year, this year, thousands of people (fellow citizens and non-citizens) will visit the city on the well-known promenade on the beach of Foinikoudes...
The Monday of the Flood (Kataklysmos or Cataclysm) is on June 17th, 2019.
The program of the Larnaka Municipality events, as every year will start on Friday, June 14th, which is the official launch of the 2019 Kataklysmos.
For another year, the Municipality is preparing many surprises, but this year's Flood Festival may be different, especially in terms of fun and joy!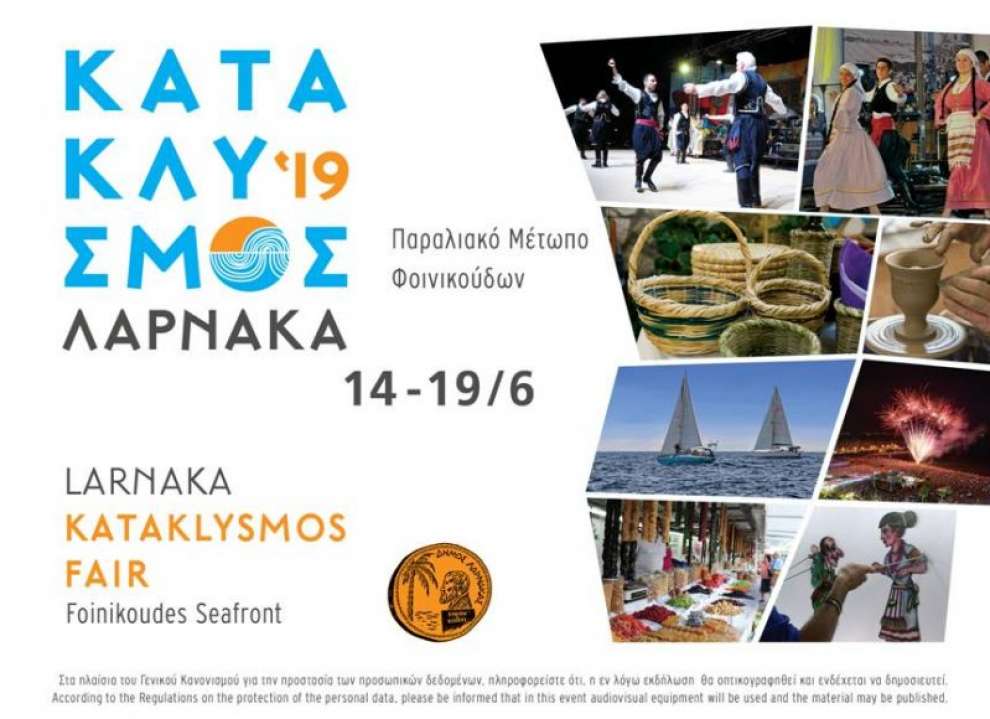 From this great Larnaka celebration, famous singers from Cyprus and Greece will be present, such as Katerina Kouka, Stelios Dionysiou, Nikos Makropoulos, Giorgos Sampanis, Stan, Stella Georgiadou, Kostas Chatzihristodoulou, Petros Kouloumis, Elena Andreou, Annita Konstantinou and Pantelis Iona.
Also in an environment reminiscent of other times, the Medieval Castle's Garden Theater will host the Shadow Theater Festival (Karagiozis) and a special musical-theatrical performance. At Kimonos Square, 14 specially constructed kiosks will travel us back in time with the display of traditional Cypriot occupations.
Finally, at the beach of Finikoudes will be held the Beach - Volley Pancyprian Competition, while the Golden Bay Hotel will host for another year the Chess Tournament.