The charity event ''Cafe of Love''
An event full of activities with food, sweets and drinks at low prices!
The Axion Este Charity Organisation invites you to the ''Cafe of Love'' event on Monday 30th September 2019.
The Axion Este Charity Organisation was founded 10 years ago and it is organising a charity event at Livadia, Larnaka.
The event will include:
Ronald Mc Donald
Archery Association of Filokritis
Face Painting
Lucky Folders
Dances
Music
Foods and sweets
Drinks
Pilotta competition
Dances by: Andri Georgiou Dance School, Cultural Club of Kalo Chorio Larnka and Dance School "Cyprus"
Music by: Music Band Egeopelgitika with Vasso Nikolis
Food, Sweets and Drinks at Low Prices!!!
The menu includes:
Food:
Souvlakia/kebab
Nuts
Mahalepi
Traditional Syrups Sweets
Snacks
Drinks:
Cold beer
Soft drinks
Juices
Waters
Wine
And it also has a take away for kebab on the phone: 99688441 - 99326959 - 99588701
Missing Square at Livadia
Monday 30th September 2019 @18:00
Participation Cost: €5,00
Tel. for participation: 99688441
Under the auspices of the Commissioner for Volunteerism and Non-Governmental Organisations Mr. Giannakis Giannakis.
Supporters: Mc Donald's, Stelios Supermarket, Nektarios Koumbarou Pharmacy, Printing Louca, Shell Petroleum, Nikos Nathail Butchery - Meadows, Roofs - Pergolas Wooden Constructions Michalis – Paris – Lefteris and Grill Lovers Kebab House
Come and join to have a good time and get entertained by doing charity!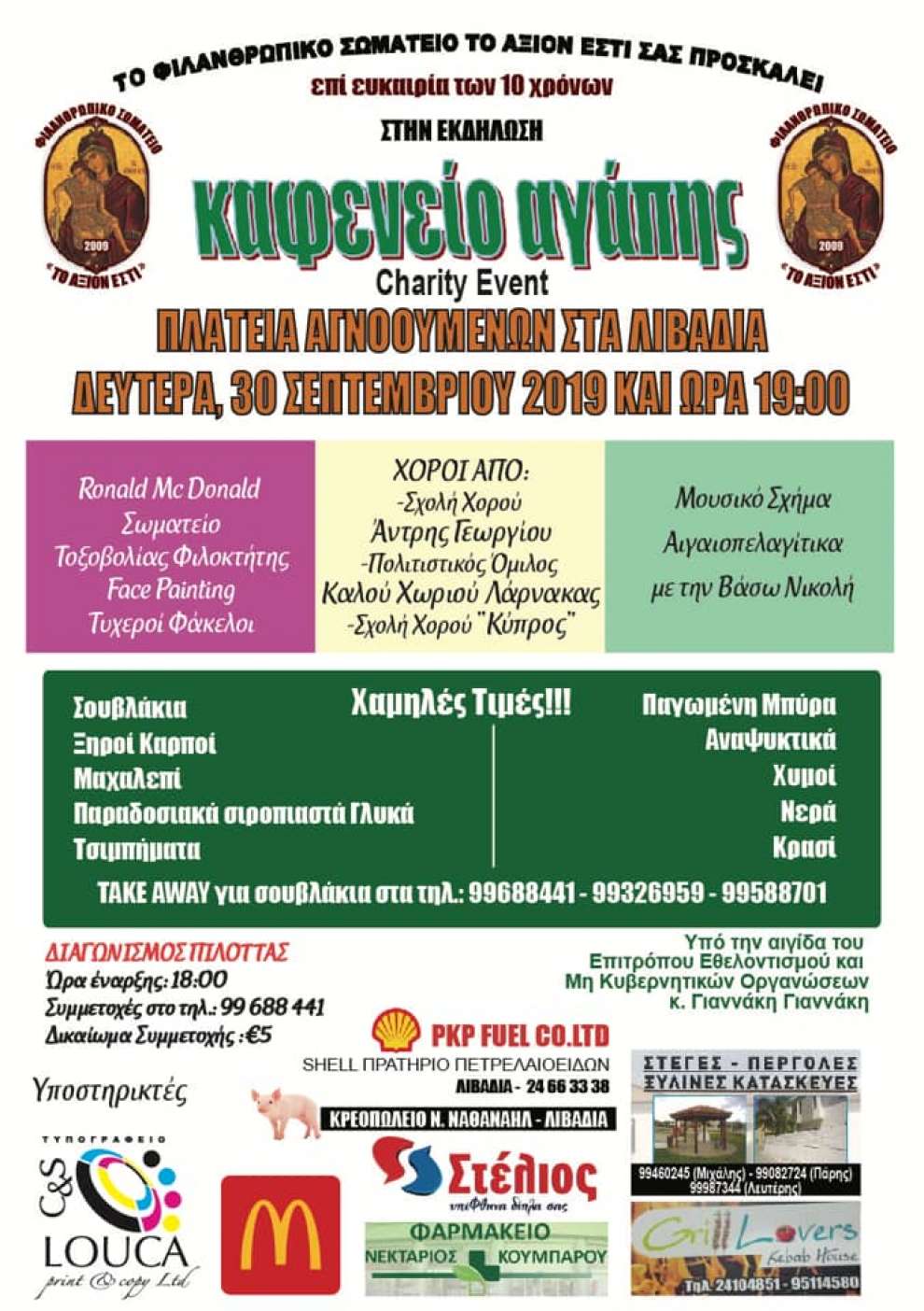 Photo from: https://www.bigcyprus.com.cy