The Linear Park Along the Garyllis River becomes a paradise
The rain came, the dams have overflowed and the rivers run to meet the sea of Limassol
After the heavy rainfall on our island in recent months it is worth exploring pedestrian areas and parks in your area. You will surely encounter a lush landscape full of flowers.
Photo: Φωτεινή Καυκαλιά
I had the opportunity to walk to the Linear Park Along the Garyllis River in Limassol and found myself in a terrestrial paradise.
The harmony of nature in all its grandeur! As you walk beside the green and the flowers next to you flows the river that leads to Limassol Marina.
The route can also be done by bicycle, the bicycle path is approximately 3.8 km.

Photo: Kyriakos Andreou Photographer / Source: Limassol Municipality
The Garyllis River is an important geophysical element and its use as a walking and cycling route, with the creation of a linear green park, gave a breathtaking breath to the residential areas that cross it. The path of the river connects Polemidia with the centre and the beach.
Secure rides for cyclists, both for exercise and leisure purposes, as well as for alternative traffic instead of car use from the northern districts to the commercial centre of the city, but also to areas of special interest such as marina, old harbour and waterfront.
A beautiful walk for walkers, as well as a pleasant family environment for playing and relaxing.
Do not miss the opportunity to visit and at take walk while it's spring!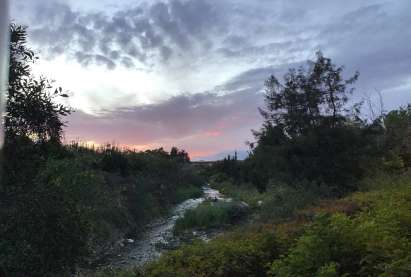 Latest (16) articles about HIKING