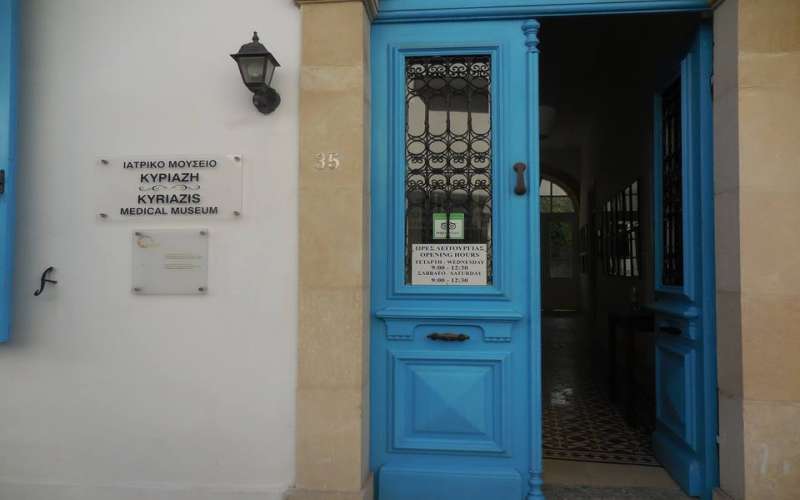 Kyriazis Medical Museum
The first medical museum in Cyprus
The Kyriazis Medical Museum is the first medical museum in Cyprus and it is aiming to safeguard the history and tradition of the healing arts in Cyprus. It is housed in a traditional restored and listed town mansion, donated by Dr Marios Kyriazis, in the centre of Larnaka near St Lazarus church.

On display, there are photographs of the practice of medicine through the ages, with amputations, physiotherapy practices by ancient Greek doctors, medieval medicine and Renaissance treatments. There are several old Cypriot poems with medical content in the Cypriot dialect, old pharmacist's cupboards, original bottles, tablets, injections, doctor's prescriptions etc. Younger visitors learn about medically-related matters and how to apply this knowledge upon modern health problems.

In addition a section of the Museum is dedicated to the study of traditional Cypriot medical practices such as quack medicine, black and white magic, barber-surgeon treatments, religious therapies, healing prayers, superstitions and incantations.

The Museum has a 'hands-on' philosophy, and any member of the public can have unrestricted access to any of the exhibits. The items can be handled, examined and used irrespective of their age or rarity, in an attempt to teach the visitor not only about the use of the item but also to re-create the physical and emotional framework where the item had been used. The intention is to teach and inform rather than to merely collect and exhibit.

The 'Health Hangout' in the garden offers traditional herbal teas, remedies, health elixirs etc in a relaxing atmosphere, where one is able to enjoy the surroundings. It is a small oasis in the busy centre of Larnaka. Events, presentations, social gatherings and performances are advertised in the press and social media, as and when these are organised.

See the facebook page HERE

The Kyriazis Medical Museum is open on Wednesdays and Saturdays from 09:00-12:30.
Other days by arrangement.

35 Karaoli & Demetriou Street, Larnaka 6021 Cyprus