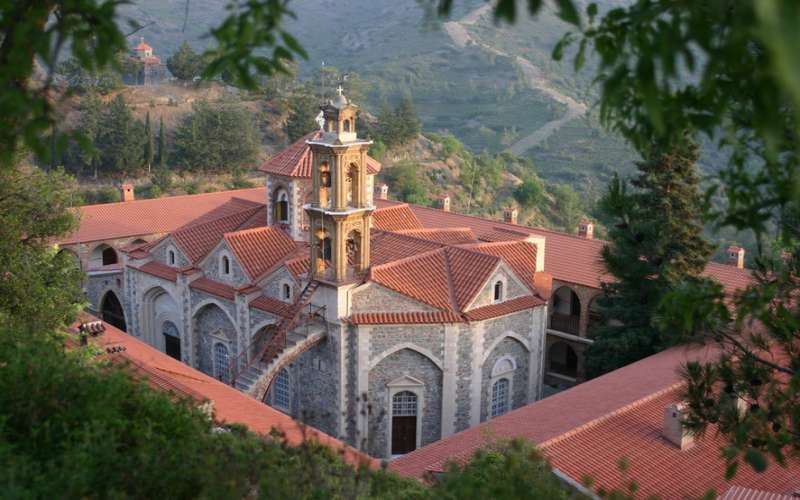 Machairas Monastery
One of the three royal and cruciform monasteries on the island and hosts the miraculous icon of Virgin Mary
Located on the slopes of Kionia, in the valley of Machairas mountains, Machairas Monastery is one of the three Royal and Stavropigials of the island and houses the miraculous icon of Panagia (the Virgin Mary) of Machairas, which is attributed to Agios Loukas (Apostle Luke) the Evangelist.
According to tradition, an unknown hermit sneaked the icon into Cyprus during the iconoclasm years (between the 8th and 9th century AD) and kept it in his cave until his death. Blessed with the divine grace, the hermits Ignatios and Neophytos, around 1145, discovered the cave – which was obscured by bushes - and were able to reach it by cutting down the undergrowth with a knife given to them by divine hand. As a result, the revealed icon was given the name 'Machairiotissa' from the Greek word for 'knife' – 'machairi'. The monastery was built on the same spot, also taking the name.
Today, the renovated vestry basement consists of the monks' original cells, stables and storage areas, and houses a collection of old books and manuscripts, icons and other religious artefacts.
Operating Period: All year round
Entrance Fee:
Free
Telephone:
+357- 22359334 (the phone is always an answering machine where people leave voicemails).
Website
:
https://machairas.cy/en/
It celebrates on the 21st of November (Presentation of the Blessed Virgin Mary).
No photos or video – cameras are allowed within the monastery area.
Accreditation: The Holy Basilica and Stauropegic Panagia Machairas
Facilities:
The Monastery is accessible to people in wheelchairs.
There is a toilet for people with mobility problems outside the Monastery, which is always accessible, and one inside the Monastery, which is not accessible during the six months when the Inner Monastery is closed.
Parking is available as well as a shop – showroom of the monastery where visitors have the opportunity to buy religious books and other religious items and products produced by the Monastery.
Also available commemorative books for Monastery for sale from 4 to 7 euros, which are in Greek, English, Russian and German.
In the area where there is the statue of Afxentiou, a museum is dedicated to the memory of the hero of EOKA, where the management responsibility of the Council of Historical Memory of EOKA Struggle.

In the church there is a special leaflet about the history of the Monastery which is given free of charge and it is in the Greek language. Guided tours and group visits are welcome but only after a telephone consultation with the Monastery first.