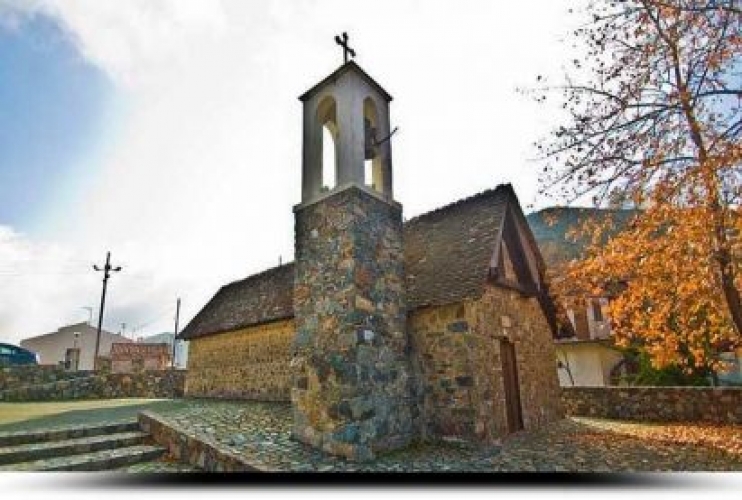 Metamorfosis tou Sotiros Church
In 2000, it was included in the UNESCO World Heritage List
The church of the Transfiguration of the Saviour is situated in the east part of the Troodos mountain range. It is built on a small hill overlooking the eastern part of the village of Palaichori. In 2000 it was inscribed on the UNESCO World Heritage List , which includes nine other painted Byzantine churches of the Troodos range.

It was erected at the beginning of the 16th century and it belongs to the single-aisled, timber-roof typechurches of the Troodos region. The narthex, which was added by the beginning of the 17th century, extends to the west and south sides of the church and is covered by the same timber roof.
The interior of the church is entirely covered with wall-paintings. These date to the beginning of the 16th century, and constitute one of the most complete groups of wall-paintings of the Late Byzantine period in Cyprus. It is the most important example of the work of a group of painters of the Venetian occupation period, who remained attached to traditional Byzantine art, whilst having limited western influences. It is the same kind of art which we observe during the 16th century in various Greek lands under Ottoman occupation.

The unknown artist was influenced by the art of the Palaiologan period but at the same time kept his own style with some influences from western art. The artist seems to have been very capable and a master in the drawing of standing human figures.
On the external side of the west wall of the church there are some later wall-paintings, dated to 1612. The wooden painted iconostasis dates to the beginning of the 18th century. Most of the portable icons are dated to the same period and are the work of painter Mathaios Koutloumousios, a monk from Mount Athos.
District
Palaichori, Lefkosia (Nicosia)
Telephone
99974230
Opening Hours
Tuesdays and Wednesdays 10:00-13:00
The church can be visited in the afternoon and over the weekend following prearrangement with the custodian.
Admission
Free