A Week of Vegan Nistia
during the 40-day Christmas Fast in Cyprus
We are now well into the Christmas fast, the period where traditionally, the Orthodox of Greece and Cyprus (and of other Orthodox countries such as Bulgaria and Roumania) have a 40 day period of fasting or more accurately in English, abstaining from, meat, fish (most days) and dairy products. In Greek there is not a separate word for total fasting and for abstinence. They are both known as "Nistia". The full rules of the fast can be found here. There is a slightly stricter 50 day fast for lent and there are some short fasts dotted around the year, but Christmas and Easter are the main periods, specially Easter.
No heavenly reward is offered for fasting, no punishment for not fasting. Nistia is simply an age-old spiritual exercise offered by the Church for those who want to follow it. You don't have to believe in Jesus or even in God to undertake it. If you do undertake it, you may find some physical health benefits too. Earlier in the year I explained how I lost ten kilos with such "fasting."
For the increasing number of vegans in the world, there is nothing odd about this dietary approach to be found in "Nistia" or "Fasting" (abstinence). For the rest of Western Society it can be rather bewildering. "How can you live so long without eating meat?" people often ask me. "Very easily," is my reply. It is particularly easy if you have been brought up on a Greek cuisine, because Greek culinary tradition relies heavily on vegetables.
In this article, I am going to take you through a full week's cooking during Christmas Nistia. I have to say that there is one and only one ingredient that I find difficult to give up. It is neither, meat nor cheese, nor eggs nor alcohol: it is oil on those non-oil days. I would not pretend that you eat gastronomically on those days. The rest of the time you can enjoy mouthwatering vegan gourmet meals. However, there is some joy to be found in the taste of the pure plant food. I find an increased awareness of the naked taste of boiled beetroot or potato, of raw vegetables such as cabbage and carrots, of the extra portions of fresh fruits and nuts. Nonetheless, I am glad we don't have two of these days in a row and I always look forward to the oil-inclusive days that follow.
So let's look at our week of Nistia food preparation of main meal, starting with a weekend:
Sunday: Nistissima Gemista – Vegan Stuffed Vegetables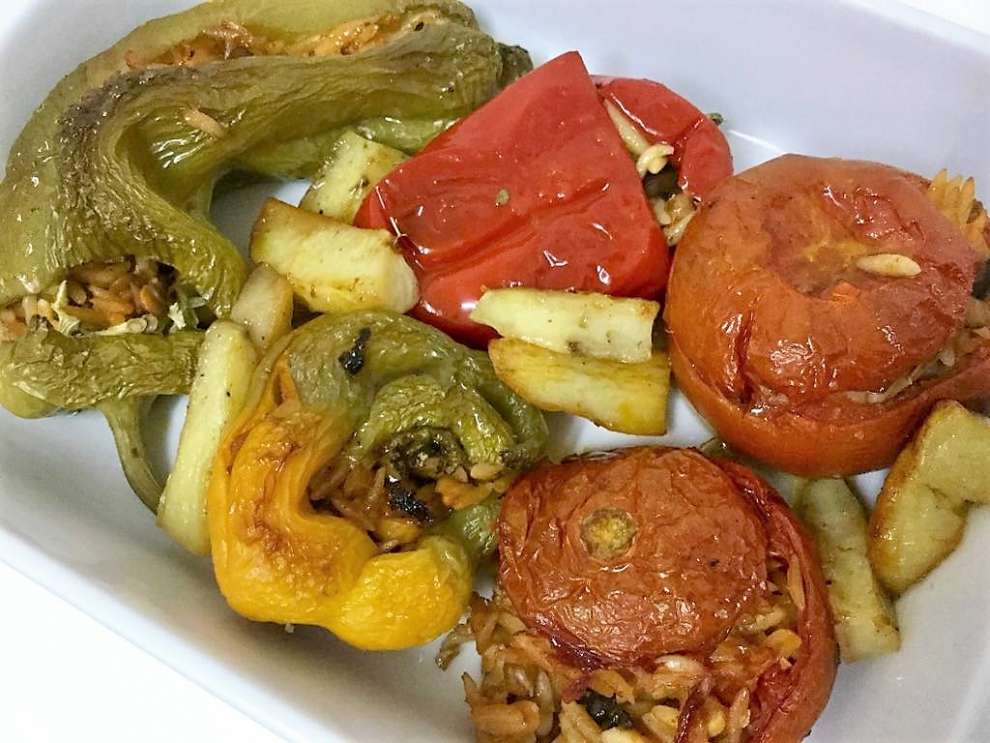 There is a whole panoply of vegetables that you can choose to stuff. The most typical are tomatoes and bell peppers, but you could choose aubergines, marrow, onions even. Do include tomatoes though because you will want to chop up the pulp and add to your stuffing mix. We'll assume the typical stuffed tomatoes and peppers for this recipe.
Ingredients (for four people)
4 bell peppers
4 beef tomatoes
4 large potatoes
2 medium-sized onions
3 cloves of garlic
3 Greek coffee cups of rice or 4 of Orzo Pasta
2 medium-sized cup mushrooms
2 Greek coffee cups of lentils
2 tablespoons of oregano
175 ml of olive oil
3 tablespoons of tomato ketchup
Salt and pepper to taste
Water
Optional extra: a few slithers of chilly pepper, chopped Chick Peas as well as or instead of the lentils
I use the double-sized Greek coffee cup for measuring. One almost full cup contains 4 fluid ounces or 120 ml of water.
Method
Pre-soak lentils and/or chick peas overnight. Boil them till soft.
Chop up your onions and garlic. Chop up your mushrooms.
Put a couple of tablespoons of your olive oil into a frying pan, add your chopped onions, garlic and mushrooms and gently fry. Meanwhile slice off the tops of your tomatoes, preferably leaving a hinge of skin; scoop out the pulp from your tomatoes, chop it up and add to your frying pan. Add in a little over half of your oregano, plus salt and pepper to taste. Stir with a wooded spoon and fry till onions are translucent. Add your rice or orzo pasta. Add your tomato ketchup. Add water – two to one liquid for orzo, two and a half to one for rice. Liquid includes the juice from the frying onions and tomato pulp and mushrooms.
Leave to simmer. While this is all bubbling away peel your potatoes and cut into wedges. When the rice or orzo is nearly cooked and there is practically no liquid left, stir in the lentils and or chick peas. Almost slice off the tops of the peppers, again leaving a hinge of skin, if you can, then remove the pith. Spoon in the rice or orzo based stuffing into your hollowed out peppers and tomatoes. I like to give a little squirt of ketchup right at the top of the stuffing, but this is not essential.
Place your tomatoes and peppers in a baking dish. Scatter your potato wedges between the tomatoes and peppers. Add salt and pepper and the rest of your oregano. Pour the rest of your olive oil over both the wedges and the stuffed vegetables.
Cook in a preheated oven at 180c for one and a half hours, turning the wedges over at half time.
Monday - no oil day. We won't pretend that this will be a gastronomical day. Let's simply look at sustaining ourselves. Nuts are good and abound in Mediterranean countries. Fruit is plentiful and healthy. Boiled beetroot and boiled potatoes are quite pleasant. Cabbage, carrots and avocados can be eaten raw. Salads of tomato, onion and cucumber can be eaten plain or with lemon juice or vinegar. Courgettes can be boiled and eaten with a sprinkling of lemon juice. Lentils can be boiled with some vinegar and onion. If one is hungry, plain boiled pasta can be livened up a little with strained tomato and some chilly pepper. Boiled rice can be eaten with tomato and chopped garlic sprinkled with lemon juice and seasoned. Oregano and basil are useful herbs to add. These "no oil" days are definitely not days for "living to eat". With such fare one can "eat adequately enough to live".
Let's settle for boiled beetroot and boiled potato seasoned with salt and pepper with some lemon-drizzled boiled courgette for this Monday.
Tuesday: Imam Bayildi with sauteed potatoes and salad– a truly delicious way of preparing aubergines.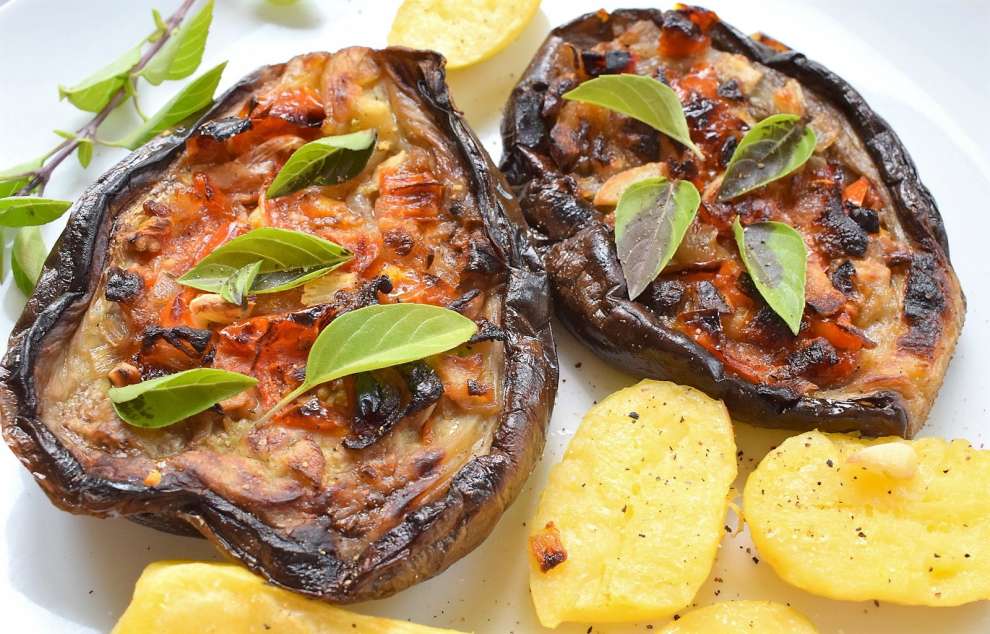 Ingredients for the Imam Bayidi ( for four people)
4 aubergines
4 medium-sized onions
8 cloves of garlic
2 medium-sized tomatoes
150 ml olive oil
1 tablespoon of ketchup
1 tablespoon of oregano or thyme
1 teaspoon of cumin seeds or powder
Cup of chopped parsley or basil
Salt and pepper
Method
Cut the aubergines in half and hollow out removing as much as possible the pith in one piece. Sweat the aubergines, including the pith, with salt to remove the bitter juices.
While your aubergines are sweating out their juices, finely chop your onion, garlic, tomatoes and parsley. Pour three tablespoons of your oil in a frying pan. Heat on the hob and pour in your chopped, onion, garlic and tomatoes, half your parsley, your oregano or thyme, the cumin and the ketchup. Heat for about twenty minutes till caremelised.
Wash the salt off your aubergines, pat dry with kitchen towel and fry them (both sides) to soften. Add your caremelised tomato and onion stuffing to the hollowed aubergines. Cover with the fried pith pieces and bake for 40 minutes at 180C. Sprinkle over the top the rest of your parsley (or basil before serving).
Wednesday – another "no oil" day. We might focus on raw white cabbage and carots (very healthy) and other plain salad ingredients.
Thursday – Briam also known as tourlou which means "everything tossed together". It is like the French Ratatouille but it has potatoes in it and it is baked in the oven not cooked over a hob.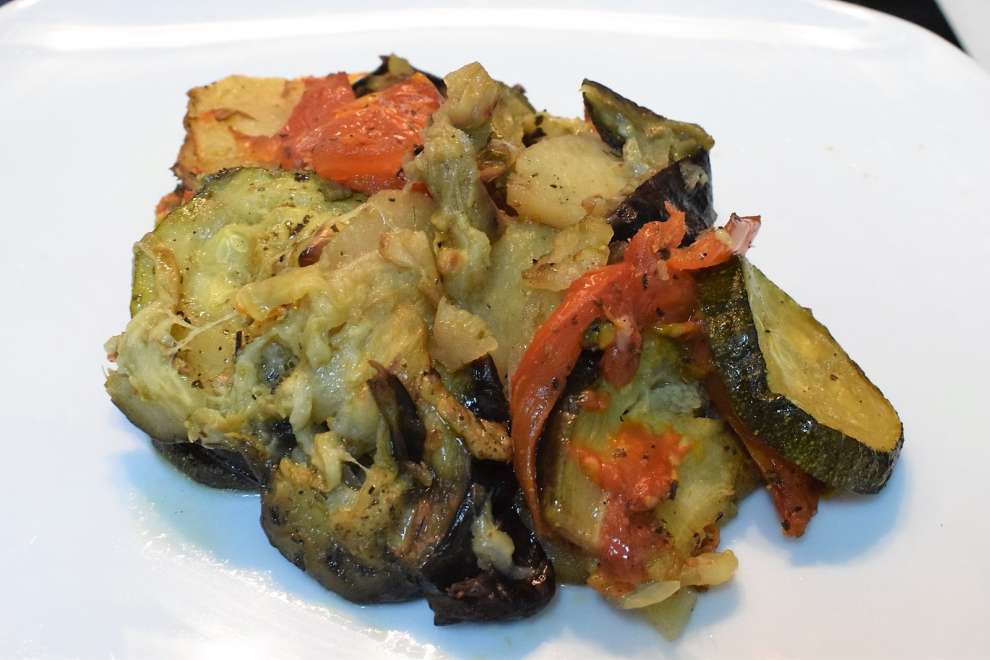 Ingredients (for four people)
2 aubergines
2 large courgettes
2 medium-sized tomatoes
2 medium-sized onions
3 medium-sized potatoes
1 bell pepper
1 tablespoon oregano
3 bay leaves
1 teaspoon cumin
2 tablespoons ketchup
30 ml olive oil
Method
Cut all the vegetables into fairly thin slices, starting with the aubergine. Sweat these with salt while you are slicing up the rest of the vegetables. When the aubergines are covered with dew-like drops, rinse the salt off. Place all the sliced vegetables in layers in a baking dish. Add in the herbs and seasoning and ketchup. Pour in the olive oil evenly. Put in a preheated oven at 180C. Bake for one and a half hours, taking out of the oven every twenty minutes to turn over the vegtables so that they all get cooked evenly. Some people serve this dish with rice. However, as we have the starchy carbohidrate in the potatoes, I do not find this necessary.
Friday – so we come to another "no oil" day. Lentil and Onion soup is a suitable food option.
Ingredients (for four people)
3 Greek coffee cups of lentils
1 large onion
2 cloves garlic
2 carrots
2 medium-sized ripe tomatoes
2 medium-sized potatoes
1 courgette
1 tablespoon of oregano
2 bay leaves
1 chilli pepper, not to hot
Salt and pepper
3 tablespoons vinegar
Water
Basil
Method
Slice your onions and chop up your garlic and chilli pepper. Put in a saucepan with you vinegar and heat as if you were using oil. Add the lentils. Chop up all your vegetables and add to the pan. Season and add the herbs. Add the ketchup. Add 75 cl of water. Bring to the boil and then simmer for twenty minutes, letting the liquid reduce.

Saturday: Fasolia Lathera (Oily Green Beans), so called because a lot of olive oil is used in their preparation.
Ingredients (for four people)
1 kilo green beans
4 medium-sized ripe tomatoes
2 medium-sized potatoes
2 medium-sized carrots
2 medium-sized onions
1 large courgette
2 cinnamon sticks
1 teaspoon cinnamon powder
3 cloves of garlic
4 bay leaves
2 tablespoons oregano
2 tablespoons of tomato ketchup
175 ml olive oil
Optionally a few slithers of hot chilli pepper
Salt and pepper
Method
Chop your onions, garlic and chilli pepper ( if you are using any). Put three tablespoons of olive oil in a saucepan and put on hob at maximum. Slice the tops off the tomatoes and set the tops aside for use in salad. Place the tomatoes upside down in the saucepan and turn down to medium heat.
While this is all bubbling away, peel your potatoes and carrots and slice thinly. Likewise slice the courgette. By the time you have done this the tomatoes should be sufficiently soft for you to be able to slide the skin off. Once you have removed the skin from the tomatoes, put the tomatoes on a plate and chop them up before tossing back into the saucepan. Throw in the sliced potato, carrot and courgette. Add the bay leaves, oregano, cinnamon sticks, cinnamon powder and salt and pepper. Stir and allow to simmer.
Now string the beans and cut the ends off. Cut them in two or three. Pour in the rest of the olive oil. Add the tomato ketchup. Allow to simmer till the beans are soft – about half an hour.
Serve up and enjoy!

So there we have a week of main meals during 'Nistia'. Personally, I usually have my main meal around 6pm, and a light meal at lunchtime – typically a Greek salad without cheese or else I have leftovers from a previous main meal. An 'eliopita' or olive pie with some salad or some 'hortopita' is another option that sometimes attracts me.



If you are contemplating the vegan lifestyle or at least adopting a more vegan approach in your eating habits, you might find that this article gives you the inspiration to make a kick start. You may also find a heightened sense of well-being and a spiritual uplift.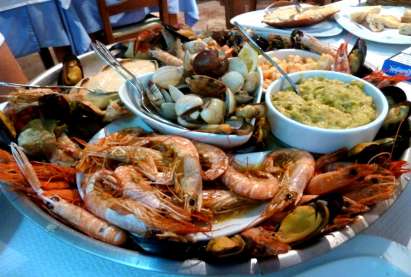 If you enjoyed this article, you might also like to read my article on Feasting and Fasting in Cyprus.