Makkas Winery
Awarded for bringing ancient Cypriot wine to the forefront
LONDON – One of the world's oldest wine making countries lies, not surprisingly, within the Mediterranean. Cyprus has been producing wine for over 5,500 years and is currently home to 55 small, mainly family-run wineries on the island. One in particular – Makkas Winery – is building the infrastructure to become a hotspot for tourists.
The winery had a rocky start, however, when the original owners were reluctant to invest in reviving its vineyards. Fast-forward eleven years under new leadership, and Makkas Winery now produces 330,000 bottles per year across 14 different varieties. So far it has won 90 international awards, including its latest for Best Wine Producer in Cyprus in the World Finance Fine Wine Report 2018.
With its primary objective being diversification in its first years, Makkas Winery quickly succeeded in penetrating the competitive market. The winery then set its sights on development, which has won it international recognition and the only two innovation programmes at the European Innovation in the Vinicultural Sector competition in 2014. Both programmes have been completed and are now in their respective pilot testing phases; one involves crop-monitoring technology, while the other focuses on developing yeast from local grape varieties.
Makkas Winery's latest goal is to promote the uniqueness of Cypriot grape varieties, such as Xynisteri, Promara, Morocanella, Maratheftiko and Yannoudi as well as the local traditional dessert wine, Nama.
The company's pioneering nature, meanwhile, forms the backbone of its long-term strategy, which can be best seen in the development of its new winery. As well as increasing productivity, the state-of-the-art four-storey structure also includes a restaurant, accommodation and a rooftop garden with breathtaking views to lure tourists from both near and afar.
To find out more about Makkas Winery, check out an exclusive article written by Director Andreas N Psaras, in the latest edition of World Finance magazine, available in print, on tablet and online now: www.worldfinance.com
World News Media is a leading publisher of quality financial and business magazines, which enjoys a global distribution network that includes subscriber lists of prominent decision-makers around the world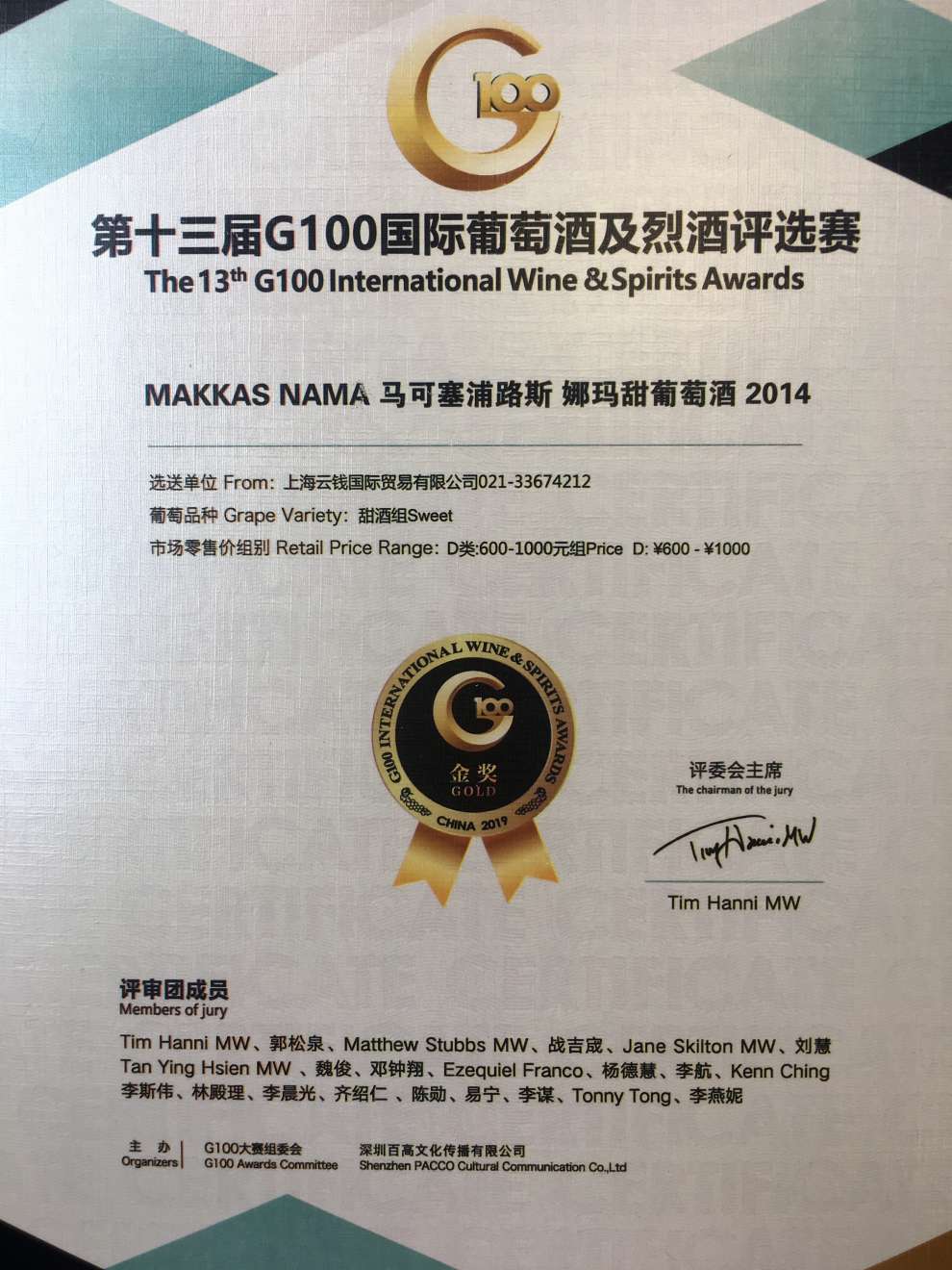 MAKKAS WINERY AWARDS
VINTAGES 2007 - 2018 up to 2019 Competitions
110 INTERNATIONAL AWARD RATINGS WITH 90 AWARDS
Makkas Syrah 2013 - Commented, Decanter UK 2017
Makkas Syrah 2012 - Silver, AWC Vienna 2016
Makkas Syrah 2012 - Gold, Cyprus 2016
Makkas Syrah 2012 - Bronze, Decanter - UK 2016
Makkas Syrah 2012 - Silver, AWC Vienna 2015
Makkas Syrah 2011 - Silver, Cyprus 2014
Makkas Syrah 2010 – Commented, Decanter - UK 2013
Makkas Syrah 2010 - Silver, Decanter - UK 2012
Makkas Syrah 2008 - Gold, Salonika 2010
Makkas Syrah 2008 - Gold, Cyprus 2010
Makkas Syrah 2008 - Silver, Moldova 2010
Makkas Syrah 2007 - Silver, Salonika 2009
Makkas Syrah 2007 - Silver, Moldova 2009
(The first year of production of Makkas Syrah was 2007)
Makkas Merlot 2013 – Seal of Approval, AWC Vienna 2016
Makkas Merlot 2012 – Seal of Approval, AWC Vienna 2016
Makkas Merlot 2013 – Commented, Decanter - UK 2016
Makkas Merlot 2012 – Commented, Decanter - UK 2016
Makkas Merlot 2011 – Seal of Approval, AWC Vienna 2015
Makkas Merlot 2011 - Commented, Decanter – UK 2014
Makkas Merlot 2010 - Commented, Decanter – UK 2013
Makkas Merlot 2010 - Bronze, Decanter – UK 2012
Makkas Merlot 2008 - Gold, Salonika 2010
Makkas Merlot 2008 -Silver, Cyprus 2010
(The first year of production of Makkas Merlot was 2008)
Makkas Maratheftiko 2013 – Gold, Cyprus, 2019
Makkas Maratheftiko 2013 - Bronze, Decanter – UK 2017
Makkas Maratheftiko 2013 - Seal of Approval, AWC Vienna 2016
Makkas Maratheftiko 2012 - Bronze, Decanter - UK 2016
Makkas Maratheftiko 2011 - Seal of Approval, AWC Vienna 2015
Makkas Maratheftiko 2011 - Silver, Cyprus 2015
Makkas Maratheftiko 2011 - Best Maratheftiko, Cyprus 2014
Makkas Maratheftiko 2011 - Gold, Cyprus 2014
Makkas Maratheftiko 2011 - Commented, Decanter – UK 2014
Makkas Maratheftiko 2010 - Gold, Cyprus 2012
Makkas Maratheftiko 2010 - Bronze, Decanter - UK 2012
Makkas Maratheftiko 2009 - Bronze, Decanter - UK 2011
(The first year of production of Makkas Maratheftiko was 2009)
Makkas Lefkada 2012 - Commended, Decanter - UK 2016
Makkas Lefkada 2011 - Silver, AWC Vienna 2015
Makkas Lefkada 2011 - Commended, Decanter 2015
(The first year of production of Makkas Lefkada was 2011)
Makkas Cabernet Sauvignon 2014 - Bronze, Decanter - UK 2018
Makkas Cabernet Sauvignon 2014 - Silver, AWC Vienna 2016
(The first year of production of Makkas Cabernet Sauvignon was 2014)
Makkas Red 2017 - Bronze, Decanter - UK 2018
Makkas Red 2015 - Seal of Approval, AWC Vienna 2016
Makkas Red 2015 - Commended, Decanter - UK 2016
Makkas Red 2014 - Silver, AWC Vienna 2015
Makkas Red 2012 - Silver, Decanter - UK 2014
Makkas Red 2011 - Silver, Decanter - UK 2012
Makkas Red 2010 - Silver, Cyprus 2011
Makkas Red 2009 - Silver, Salonika 2010
(The first year of production of Makkas Red was 2007)
Makkas Rose (Rodostafylo) 2017 - Bronze, Decanter - UK 2018
Makkas Rose (Rodostafylo) 2016 – Silver - Cyprus 2017
Makkas Rose (Rodostafylo) 2016 - Bronze, Decanter - UK 2017
Makkas Rose (Rodostafylo) 2015 - Seal of Approval, AWC Vienna 2016
Makkas Rose (Rodostafylo) 2015 - Bronze, Decanter - UK 2016
Makkas Rose (Rodostafylo) 2014 - Seal of Approval, AWC Vienna 2015
Makkas Rose (Rodostafylo) 2014 - Commended, Decanter - UK 2015
Makkas Rose (Rodostafylo) 2013 - Commended, Decanter - UK 2014
Makkas Rose (Rodostafylo) 2012 - Commended, Decanter - UK 2013
Makkas Rose (Rodostafylo) 2010 - Commended, Decanter - UK 2011

(The first year of production of Makkas Rose was 2009)
Makkas Chardonnay 2016 - Bronze, Decanter – UK 2017
Makkas Chardonnay 2015 - Seal of Approval, AWC Vienna 2016
Makkas Chardonnay 2014 - Bronze, Decanter – UK 2015
Makkas Chardonnay 2013 - Gold, Cyprus 2014
Makkas Chardonnay 2011 - Commented, Decanter – UK 2013
Makkas Chardonnay 2010 - Silver, Cyprus 2011
(The first year of production of Makkas Chardonnay was 2008)
Makkas White 2018 – Gold, Cyprus, 2019
Makkas White 2017 – Gold, Cyprus, 2018
Makkas White 2017 - Bronze, Decanter - UK 2018
Makkas White 2016 - Bronze, Decanter - UK 2017
Makkas White 2015 - Seal of Approval, AWC Vienna 2016
Makkas White 2015 - Bronze, Decanter – UK 2016
Makkas White 2014 - Silver, AWC Vienna 2015
Makkas White 2014 - Bronze, Decanter - UK 2015
Makkas White 2011 - Commended, Decanter - UK 2012
Makkas White 2010 - Commended, Decanter - UK 2011
Makkas White 2010 - Silver, Salonika 2011
Makkas White 2009 - Silver, Moldova 2010
Makkas White 2009 - Silver, Cyprus 2010
Makkas White 2007 - Silver, Cyprus 2010
Makkas White 2007 - Silver, Salonika 2009
(The first year of production of Makkas White was 2007)
Makkas Xynisteri 2018 – Gold, Cyprus, 2019
Makkas Xynisteri 2017 – Bronze, Decanter – UK 2018
Makkas Xynisteri 2016 – Silver, Decanter – UK 2017
Makkas Xynisteri 2015 - Seal of Approval, AWC Vienna 2016
Makkas Xynisteri 2015 - Bronze, Decanter – UK 2016
Makkas Xynisteri 2014 - Seal of Approval, AWC Vienna 2015
Makkas Xynisteri 2014 - Silver, Decanter – UK 2015
Makkas Xynisteri 2013 - Commented, Decanter – UK 2014
Makkas Xynisteri 2009 - Silver, Cyprus 2010
(The first year of production of Makkas Xynisteri was 2008)
MakkasNama 2014 – Gold, The 13th G100 International