Church of the Transfiguration of the Savior in Kakopetria
A small, ancient chapel in the heart of the "old village"
The Church of the Transfiguration of the Savior was the central church of the village until 1994. It was built in 1520 with stones from the Karkotis and Garilis rivers, since the village is located between them.
The church is rectangular, at the rhythm of a single-aisled Basilica, and has strong signs of Gothic and Byzantine influence. Outside it is stone-built and whitewashed. The roof is wooden, with a steep slope, which is characteristic of the churches in the Troodos region.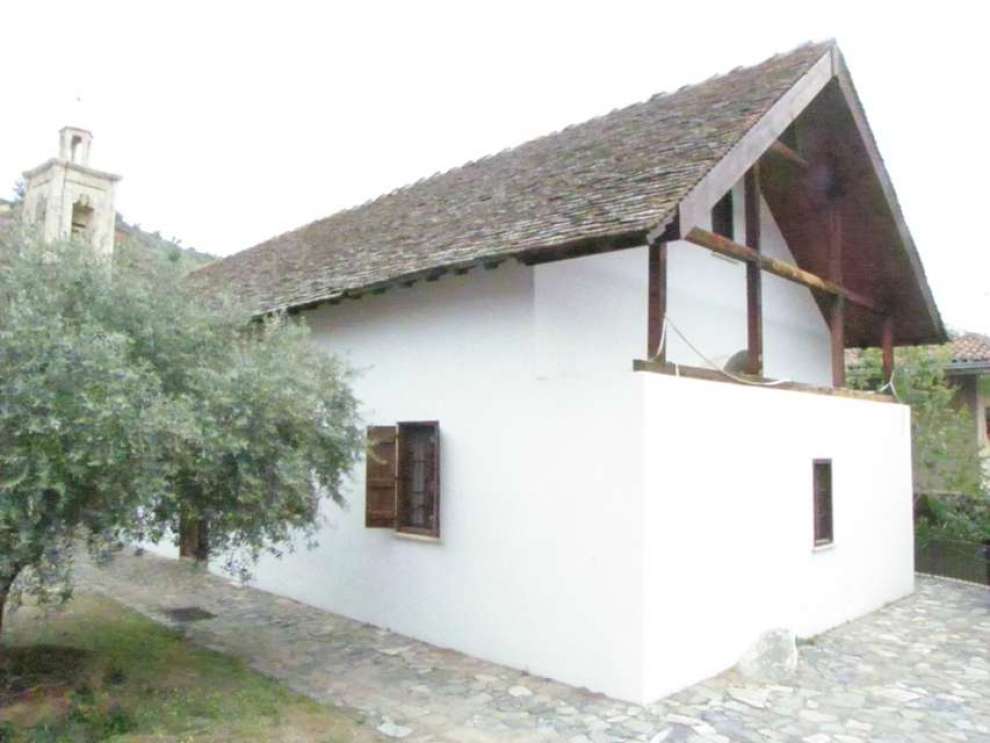 The bell tower has enormous architectural interest. It is built on the corner of the southern and the west wall, and stands far above the roof of the rest of the Temple, turning it into a dominant place for the whole area of ​​the village. From the base to the top it is built with chipped stone that brought from other areas of the island. At the three highest levels there are elaborate carved figures and columns with capitals.
In 1880, the church was expanded for the first time and a second one followed in 1960, due to the growing of the village. When they dug the floor, they found many pieces of frescoes with the name of the hagiographer Simeon Augustinis.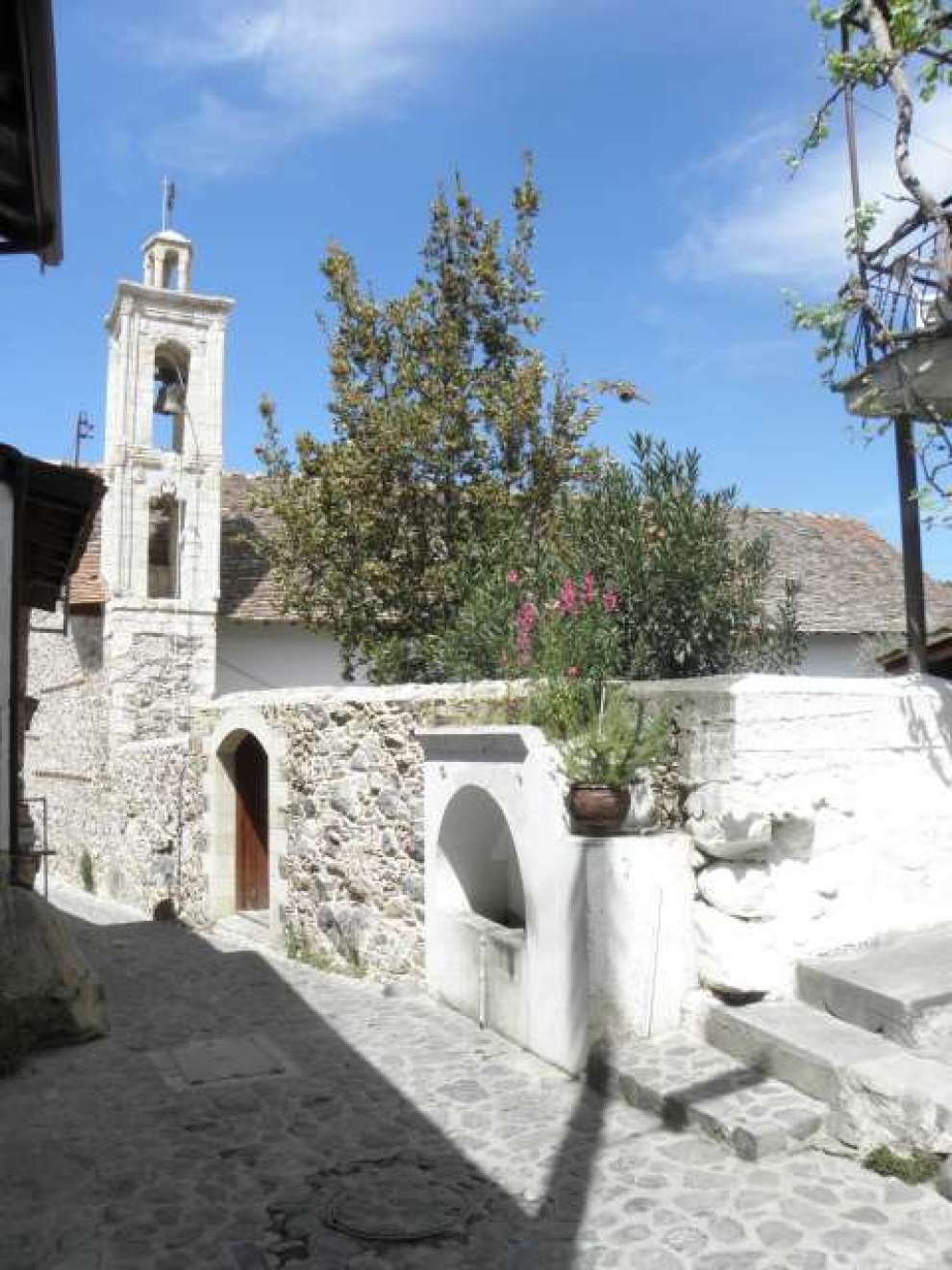 In the Temple there are several remarkable performances of the 16th and 17th centuries. The iconostasis is wooden carved, as are the two psalms that are in the temple.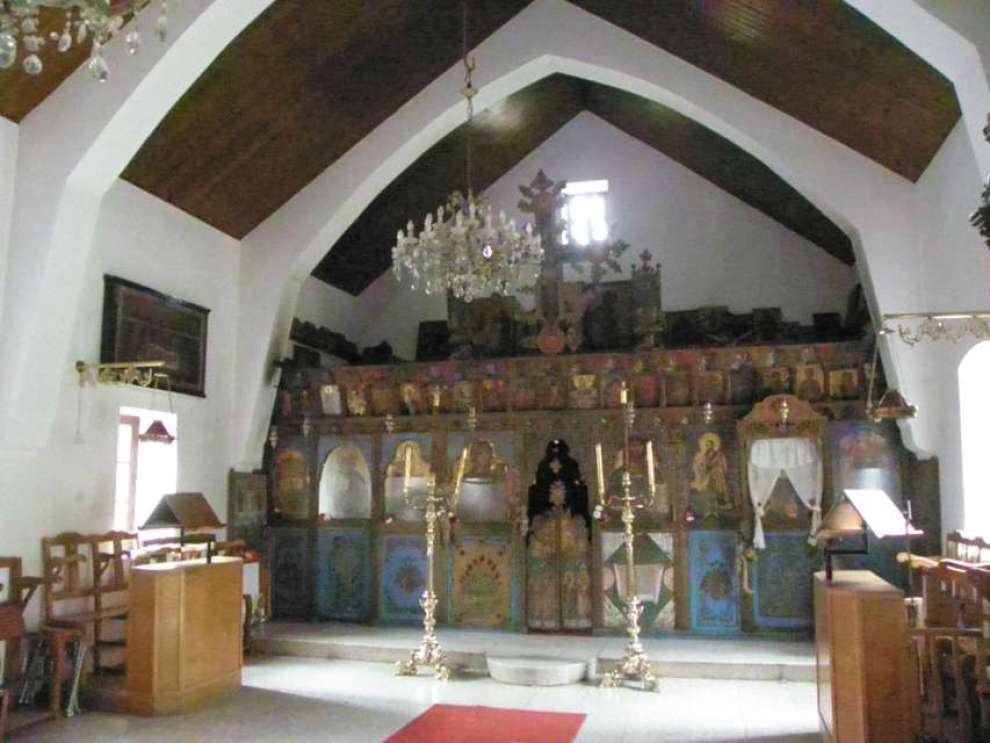 The iconostasis includes images of different chronologies. Archaeological value includes the following:
The Bema Doors. It portrays the Annunciation of the Virgin Mary and -below -the Prelates Vasileios, Gregorios, and Nikolaos.
The Crucifixion. A quite good work of Byzantine art from the 16th century.
The icon of Christ. It is large and portable. This icons was transferred from the country church of "Panagia Apotheriotissa".
The icon of the Blessed Virgin Mary. It is a very beautiful icon. It was also transferred here from the aforementioned country church.
The icon of Archangel Michael. It is a very old icon, probably of the 16 th century. It is painted upon a hard membrane and it is portable.
The icon of St George. It was transferred here from the country church of St George and it is of excellent craftsmanship.
Nowadays a liturgy takes place in it 5-6 times a year. The icon dedicated to the Saviour, which is not very old, is placed on a special kneeling desk at the centre of the church.
In the courtyard, an old olive tree, adds to the picturesque beauty of the stone-built chapel. In the same area there is the museum "old olive mill".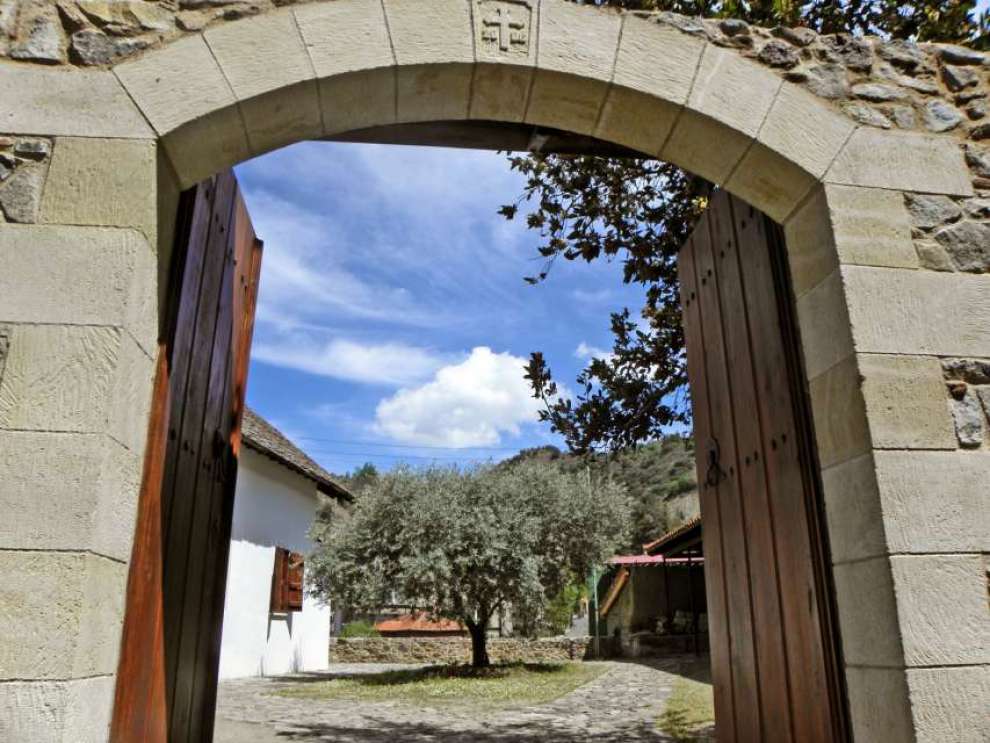 It is celebrated on the 6th of August when its holy icon is carried about in procession.
Photos: Kakopetria Community Council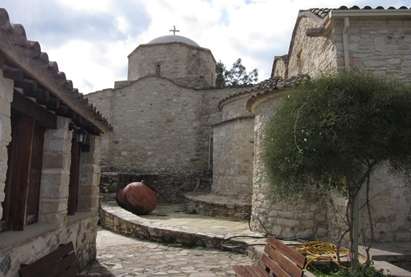 Monastery of Agios Iraklidios the Miraculous, one of the first women's monasteries in Cyprus