Tuesday 12/01/2021
Epiphany in Cyprus
The Revelation of Jesus

The priest throws a cross to which a string is attached into the water. He fishes it out again and repeats the process many times. You see it is the 6th of January – the Epiphany.
The 6th January is an important day in the Christian calendar. It celebrates the revelation of the divinity of Christ in two ways: The arrival of the Magi and the baptism of Jesus in the river Jordan with the appearance of the Holy Ghost in the form of a dove and a voice from the heavens crying out, "This is my beloved son in whom I am well pleased".
The Western churches, both Catholic and Protestant, tend to focus on the Magi while the Eastern churches celebrate the baptism of Jesus in quite a ceremonial way with the throwing of a cross into water. Epiphany is also known as "ta fota" (τα φώτα) meaning the lights or "theophania" (Θεοφάνια) meaning "God appearances" i.e revelation of God.
In sea areas it is usually thrown into the sea and hardy young swimmers dive into the icy water to fish it out in the same way that they do for the feast of the Kataklysmos (though water is a bit warmer by then). Inland it is thrown in a river.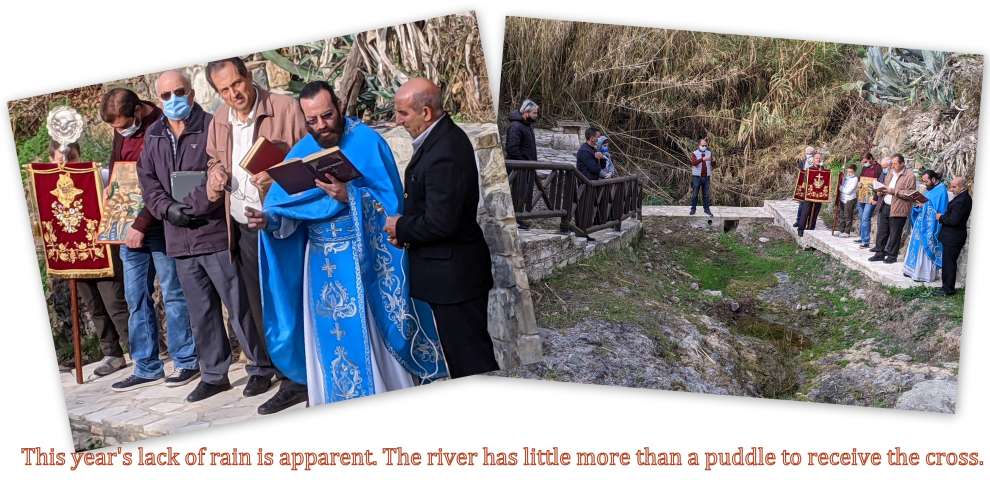 In the tiny mountain village of Lageia, where these photos have been taken, the lack of rainfall this year is marked. Last year the water was fast flowing and one could properly call it a river, albeit a small one. This year there was barely a puddle to receive the cross.
Feast days such as this are usually community occasions. After the liturgy and the ceremonial visit to water, people gather for food of some kind and coffee, maybe even a shot of Zivania. Because we are only just days into the new year, a traditional "Vasilopita" with its coin or token inside will be cut up and shared out.

Whatever one's beliefs or lack of, this community spirit is something very heart-warming to be found in the villages of Cyprus and Greece.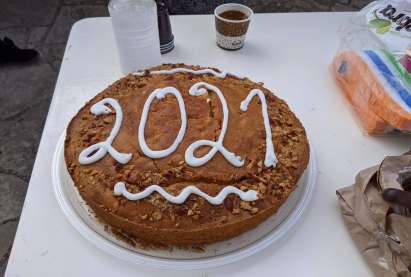 Learn more about the story of Vasilopita in my Christmas article.