"Calm down," said my mother. "We will spend one month in the mountains and one month by the sea." I was fourteen at the time. My father had been Assistant professor of English at the University of Benghazi. We were going back to England for a better higher education for myself and my sister. On our journey to England we were going to take a two-month holiday in Greece. "I have found a lovely place in the mountains," said my father. "Oh no! But we want the sea," was the instant, if uncharacteristic, mutinous reaction of my sister and of myself.
If you holiday in Cyprus's Lageia you have it all – mountains and sea. Lageia itself, is a thoroughly picturesque little village in the foothills of the Troodos mountains in the Larnaca District. It has less than 30 permanent inhabitants (more come up to their second homes here on the weekends). Drive 20 or thirty minutes South and you are at the seaside. You have a choice of Zygi or Governor's Beach (my preference is for the far Westerly end of Governor's Beach, but many people prefer the more Easterly Kalymnos area with its large fish restaurant).

Drive north from Lageia along the honey routes past the villages of Ora and Melini and you find yourself in the heart of the Troodos mountains. Agros is a fascinating village to visit. It's whole economy there is based on the rose, not any rose, but the Damascus rose. It even has its own festival. Of course festivals are out in the year of the Corona Virus, but you might like to se what the Agros Rose festival was like in the past.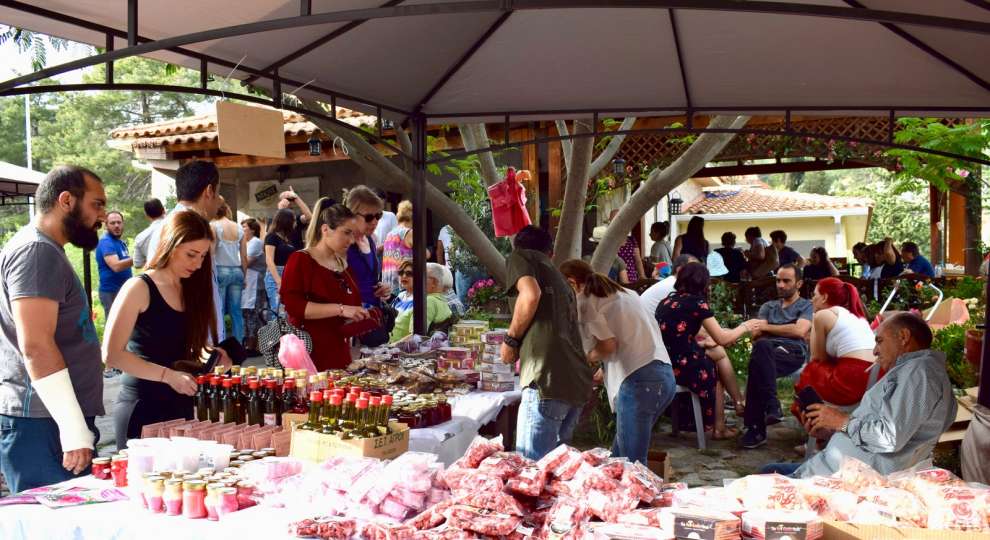 But Lageia itself and its surrounding areas has many attractions to visit. Geologists will make a Bee line for the rock face where scientist have deduced that Cyprus first came out of the sea many millions of years ago when plates of the earth's crust crashed in to each other.Those of you who are interested in bird watching or nature photography should take yourselves down to the little nature reserve near the village church and if you are fit enough to enjoy hilly walks you can delight in the mountain tracks and paths.

Not many miles away, you might like to take a dusty track to the abandoned village of Parsata. Once the miners at the copper mines of Kalavasos lived there. These ancient mines are themselves interesting to see. Now only the little church in Parsata lives on. It is regularly cleaned and maintained. On certain occasions you may not find yourself entirely alone in that abandoned village. You might hear the bark of a sheep dog. Then you will spot Tasos , the goat herd who is tending his flock grazing in the wild without food additives or antibiotics that you might expect in Western Europe.

Down the road, near the olive mill, his wife, Loula, makes halloumi and anari cheese from their farm home. You can buy halloumi there in kilo jars, but she will happily vaccum pack smaller amounts for you if you wish. A visit to this cottage industry is well worth the short drive.

Once there you might carry on down the road to the village of Choirokitia. It's about a fifteen minute drive from Lageia. It's a much larger village than Lageia and actually has some shops; these include my favourite butcher in the area. But there is more to Choirokitia than some shops and a good butcher. It is a place that you should definitely plan to visit during your stay in Lageia.It is the site of a Neolithic settlement formed around 7000 BC. To see the original ancient stones you need to undertake quite a steep climb, but down below an interesting model village has been built based on the archeologists' discoveries. The houses contain replicas of artifacts found in the ruins and a story board describes the lives of these ancient people as deduced by the archaeologists.

Lageia is itself at the center of the new honey routes organised by the Ministry of Tourism (the honey equivalent of "wine routes). Close to Lageia you have just outside the neighbouring village of Vavla, Ecophysics, beekeepers who organise special events for the public with a video presentation of how honey is made, a visit to the beehives (full protective clothing supplied) and culminating in a picnic of local honey and other natural products.

For different villages Pete Gallagher of Layia Village Crafts has made a number of Bee Hotels destined to help bees pollinate and allow are planet to continue its existence, Pete and his wife, Lynn, came to Lageia on holiday many moons ago. They were so enthralled with the beauty of the area that they decided that this was the village paradise in which they would like to settle. They had a house built and set up their workshop producing a fascinating range of arts and crafts. They are easy to spot from the main road, Pop in and learn about bee hotels and see their beautiful range of creative artifacts and paintings.

A little down the road in the village of Kato Drys is the "Bee keeping and Lace" museum. What is fascinating there is the myriad of stories from bygone times that Eli, the owner, comes up with. Like the man who travelled to England to sell Lefkara Lace. The Queen Mother became one of his customers. The salesman was paid by cheque. He never cashed it, but kept it as a souvenir. After all, it is not everyone that has a cheque from Buckingham Palace.
You will doubtless want to spend several days in this holiday paradise. There is so much to see while being far from the maddening crowd. Where should you stay. First choice must be the Layia Lodge holiday complex which comprises six self contained apartments of different sizes, the smallest catering for two people and the largest for six. Phone Loni on 00 357 99 464340. For availability and prices. There are also a couple of guest houses on the outskirts of Lageia. There is the Arodafni Vavla Retreat tel 00 357 99 658 694 and Vavla Rustic Retreat tel 00 357 96 865404. The Layia Lodge has the advantage over the others of having a swimming pool.
Last but not least, Lageia has its own Kafestiatorion or Restaurant Café. This is the place to have breakfast, lunch or dinner. It is run by the author of this article, Bill Warry an Anglo-Greek with an appreciation of the culinary preferences of both cultures. This is particularly noticeable in the restaurant's popular "English Breakfast – Cyprus Style". Would you like a little peak at the menu? Bill, as a Member of Wines and Tours Ltd, can also organise wine tours in the area for wine afficionados.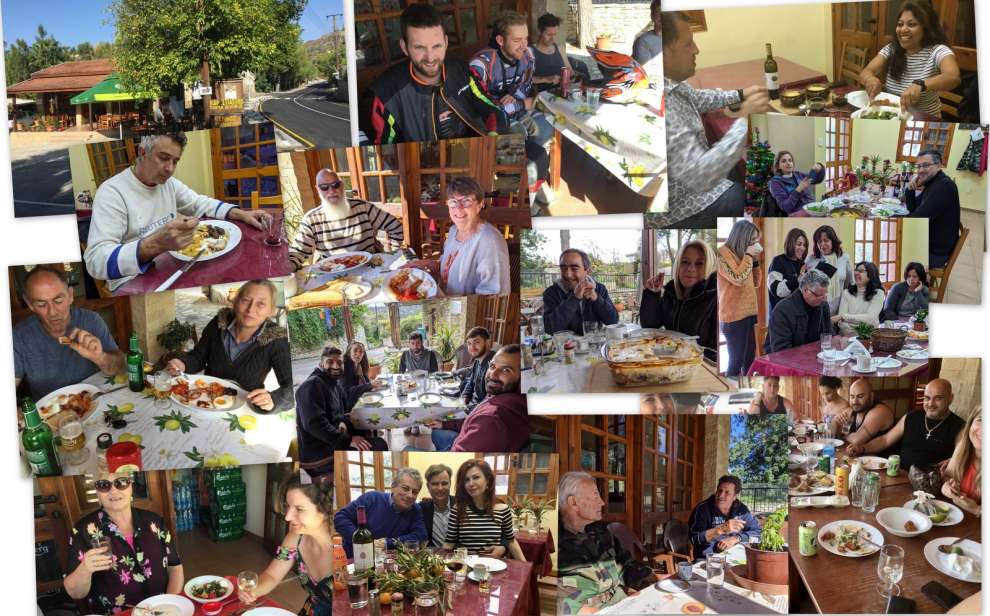 As regards the restaurant, here are some of the comments visitors have made of the food in general:
"Highly recommended. Very tasty food, creative dishes and a cosy atmoshere. Bill is always with a big smile on his face. For me, is one of the best taverns in Cyprus." - Facebook Review
"Finding the Kafestiatorion Lagias was a lovely and unexpected surprise. We had noticed the building a few times driving past but it was always closed. The good news is that Bill has opened a little gem in this picturesque village.
A very friendly and knowledgeable host providing delicious food in a very pleasant atmosphere. I have to mention the Best English Breakfasts in Cyprus - this is a very competitive field on the island but our search is over - Bill's breakfasts are everything they should be - most excellent" - Google Review
"Amazing soup. A great host! Very good prices!" - Google Review
Tempted? Not many people know about the tranquil Lageia holiday paradise. Here's your chance for an interesting break in the mountains, with fairly close proximity to the sea.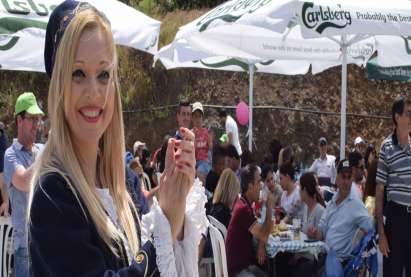 Lageia is famous for its fun festivals such as Easter Monday 2019