The journey is its own reward
The frugal use of street signs in Cyprus can be a bit of a nightmare for tourists. The native Cypriot prefers an epic description of the tour, as often as not, backed up by a quickly drawn sketch. Although the maps available in tourist offices contain information about places of interest, they are sadly lacking when it comes to matching them with street names.
But even if you bring a "proper"" map along, you will be none the wiser because a real-life sign in the actual street is a rare luxury. If you ask locals the way, they will refer to key landmarks which you will be quite unable to find on your map.
The best thing you can do is to ask a local the way and follow his guidance: "Take this road to the second roundabout, turn left at the third Kafeneion and you will find the building that you are looking for right next to the yellow house with the four trees in front of it." If you are lucky, they will back up their description of your route with a pencil-drawn map on the back of an envelope.
The advantage of this system is that you get to know friendly Cypriots and expand your knowledge of the wider area around the place you want to visit.
So, in Cyprus the journey really is its own reward.
By the way: The couple on the image make sure that you will find your way. Julia and Klaus from Kartographos (Berlin) are the maker and publisher of Hiking Maps for Tochni, Troodos and Akamas.
Photos © CIPS Ltd./Marcos Gittis (www.cips.com.cy)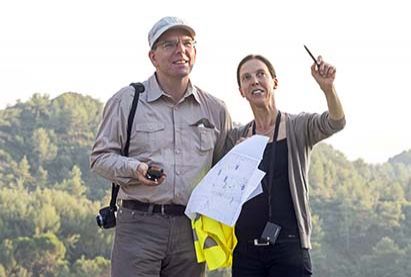 Learn the Cypriot way to tell you the way