Cream Bougatsa with crushed filo pastry
An alternative recipe with velvet vanilla cream
A different recipe for cream bougatsa for all the family. Ideal for partys as we can serve it in small individual bowls or in large serving container without the need to cut it with a knife.
Ingredients:
225 γρ. Filo pastry (5 sheets)
1 ltr. Milk
4 eggs
200 gr. sugar
100 gr. corn flour
5 gr. vanilla sugar (1 sachet)
Zest from 1 orange
For topping:
Icing sugar
Ground cinnamon
Preparation:
1. Cut filo pastry sheets in pieces, put them in a baking tray with baking paper and bake in a preheated oven at 170 degrees for 5 minutes. Turn them to cook and from the underside and continue cooking for another 5 minutes to get a golden brown colour. Let them cool down and crush them into small chunks in bowls (about 1 finger height)
2. Dissolve a cup of cold milk with the corn flour.
3. With a whisk beat vanilla with eggs and add the cold milk to the corn flour and orange zest.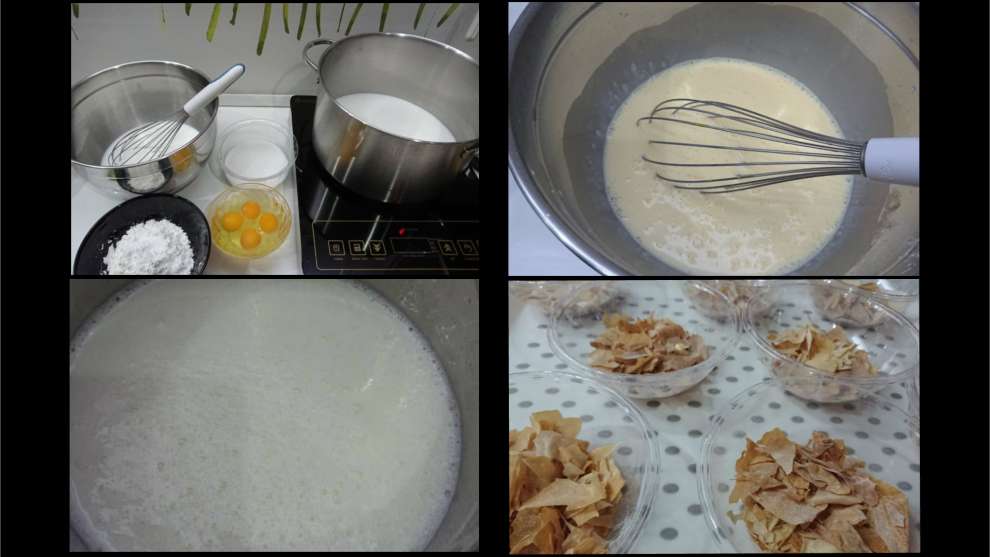 4. Boil the remaining milk with sugar and pour it into the bowl with the eggs stirring continuously with a whisk.
5. Put the mixture back in the saucepan and place in the heat stirring continuously until the cream has thickened.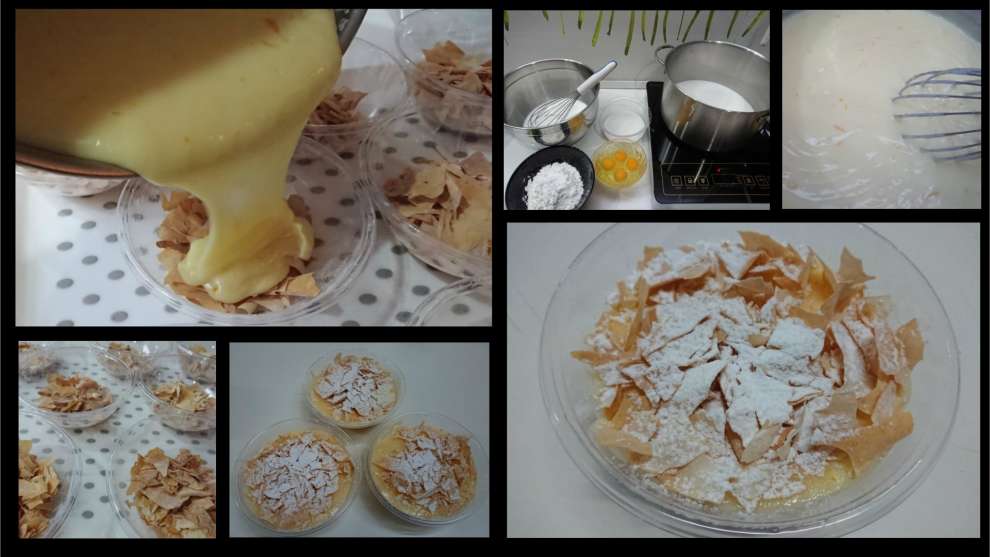 6. Divide the cream in to the bowls and place the remaining crushed sheet over.
7. Leave in the fridge overnight and serve next day by sprinkling with cinnamon and icing sugar.
| | |
| --- | --- |
| Tip of the Chef | We can replace the orange peel with lemon zest. We may also replace the pastry filo sheets with a whole wheat pastry filo. |
| | |
| --- | --- |
| Tip of the Nutritionist | Instead of sugar, we may replace with natural sweetener from the Stevia powder plant. We can also make the cream with low-fat milk or plant based milk of our choice in order to reduce the fat content in our recipe. |