Muslim Mosques in Cyprus
Muslim places of worship throughout the territory of Cyprus
Islamism was introduced to Cyprus in 649 when Usaman the third Caliph conquered the wealthy great island. The Muslims were gathered all over the region of Cyprus, and after the brutal Turkish invasion of 1974, they gathered in the north occupied until today (2018) side of Cyprus.
With the establishment of Muslims in Cyprus, many of the Orthodox churches were converted into Muslim worship places, mosques and temples. These devotional spaces exist throughout the territory of Cyprus, imposing with their tall minarets.

Some of the most important mosques:
Hala Sultan Tekke: Hala Sultan Tekke is a Muslim mosque located 5 km from Larnaka. It was built in 1787 to be rebuilt in 1816 in honor of Umm Haram. The mosque is one of the most important places of worship of the Muslim religion, mentioned fourth after the mosques of Mecca, Medina and Al Aqsa in Jerusalem.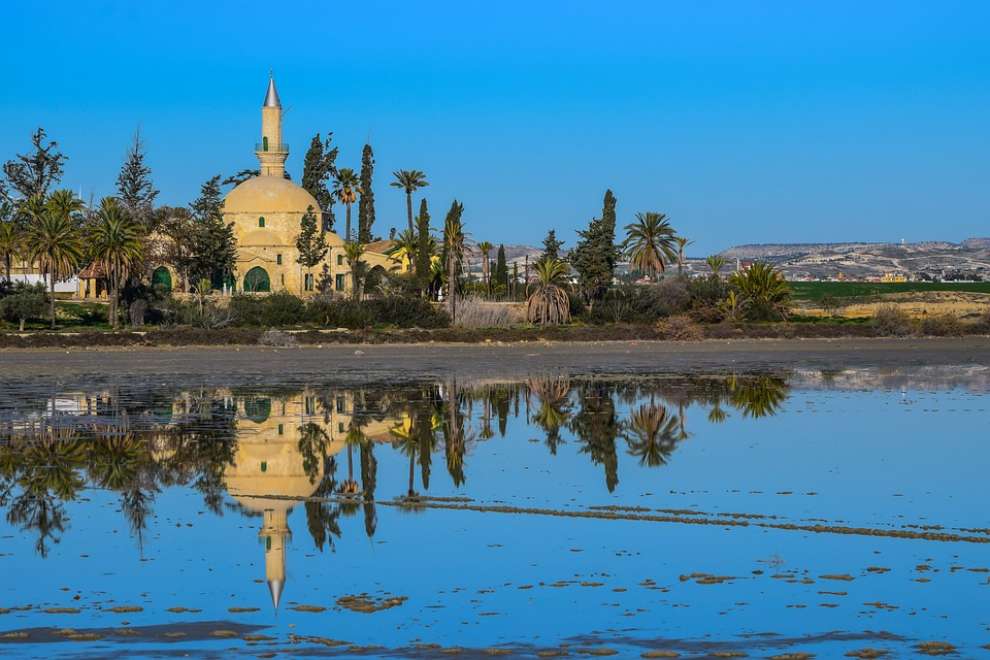 Ömeriye Mosque: The Ömeriye Mosque is located in Nicosia, near the Archbishopric. In the place of the old convent of the Augustinians, of the church of Saint Mary, as De Massa Latri says, based on two tombstones with names of the Order of the Augustinians. These tombstones were on the floor of the mosque until 1940. According to legend, Caliph Omar visited Nicosia on his way from Damascus to Egypt, where he found himself on the porch of a ruined temple. Mustafa in 1570 proceeded to recognize the Augustan church, with the consent of Omar, and the mosque is then called "Ömeriye".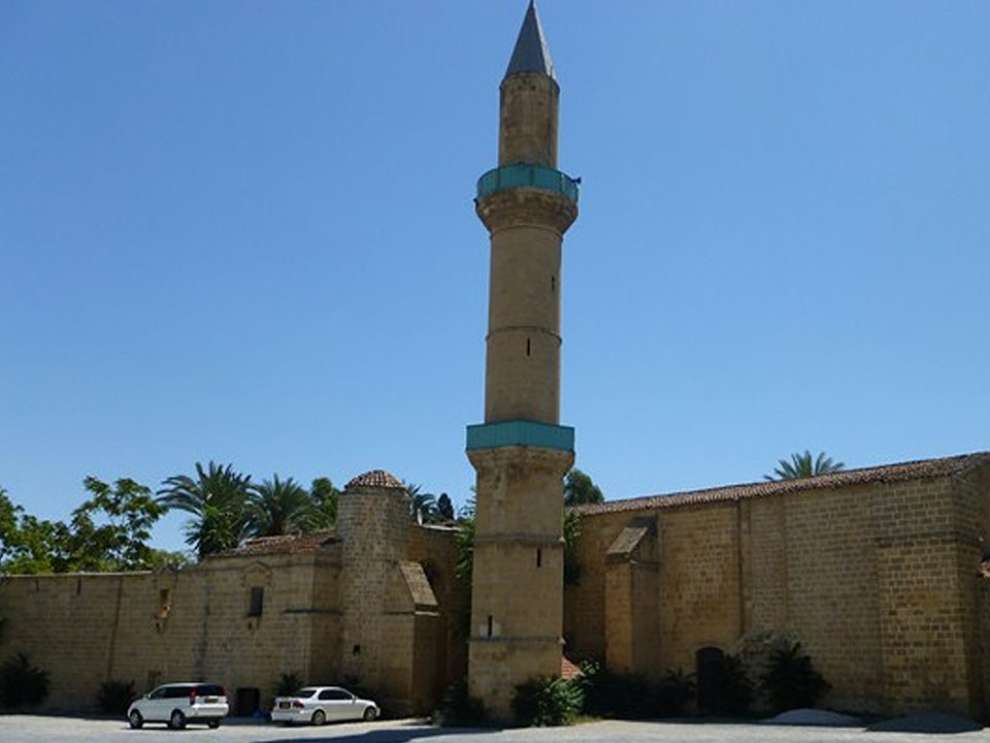 Selimiye Mosque Nicosia: The Nicosia Selimiye Mosque is the former Catholic Gothic cathedral of Ayia Sophia, which together with the temple of Lala Mustafa Pasha Mosque (Saint Nicholas Cathedral, Famagusta) are the most important examples of Gothic architecture in Cyprus. After the occupation of Cyprus by the Ottomans in 1571, the temple was converted into a Muslim mosque. Today (2018) is under the illegal occupation of the Turkish conquerors.
Oumari Mosque in Nicosia: It is located on the walls of Nicosia.
Kebir Cemir Mosque in Limassol: Kebir Mosque is located in the old Turkish quarter of Limassol. It was built in the 16th century. It is in operation even today (2018), making it one of the most important places of worship for Muslims. Recent excavations to the east of the mosque also revealed the architectural remains of the 10th century cathedral of Saint Catherine.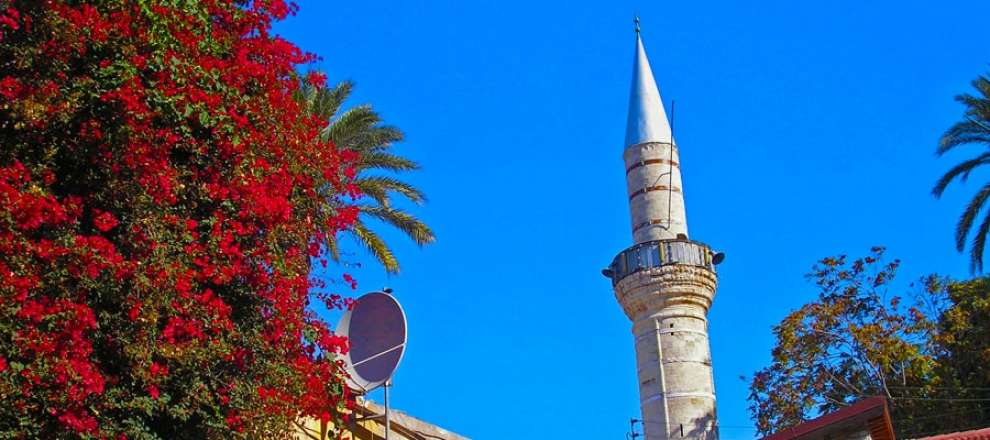 Chrysochous Mosque: The mosque in the village of Chrysochous and is an old Byzantine church dedicated to Agios Nikolaos.

Photo: You Tube/Kimonas Markoulis
Lala Mustafa Pasha Mosque: It is a Gothic architectural temple in the occupied Famagusta, which the Ottomans converted to a mosque immediately after the occupation of the city in 1571. Building of the 13th century. It is considered to be the most magnificent and beautiful Gothic temple that survives in the Near and Middle East. The temple was dedicated to Agios Nikolaos. Today (2018) is under the illegal occupation of the Turkish conquerors.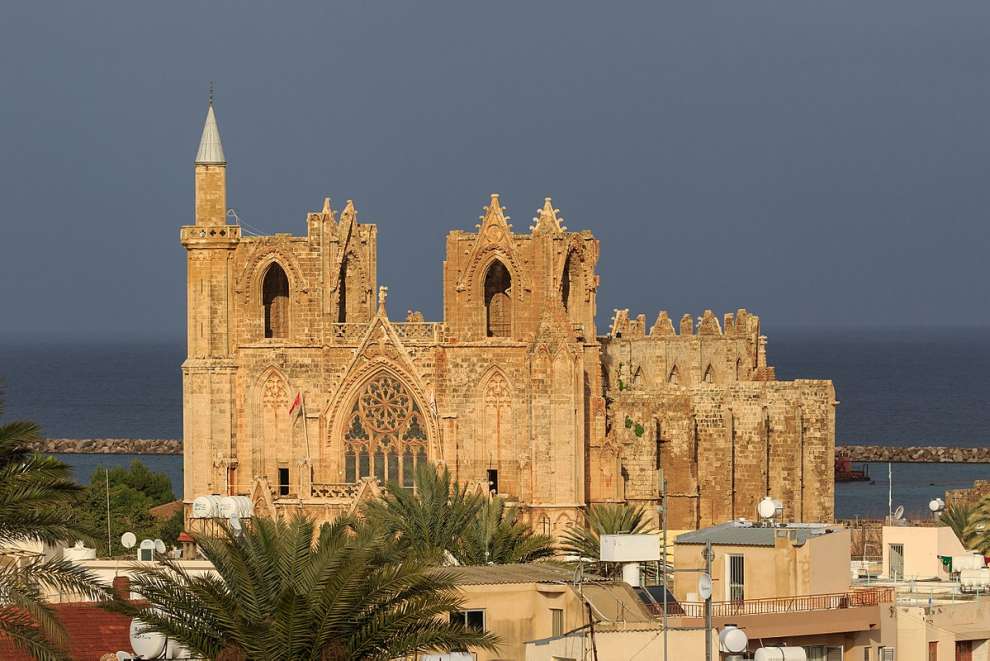 More specifically, the list of mosques in the Cypriot territory is as follows:
The mosque in the village of Agios Theodoros
The Arablar Mosque
The mosque in the village of Kato Arodes
The mosque in the village of Moniatis
The mosque in the village of Paramali, Limassol
The mosque in Gialia, Pafos
The mosque in Polis Chrysochous
The Jami Jedid Mosque in Limassol
The mosque Nebet Khane Masjid, (within the walls) Nicosia
The mosque Tophane Masjid, (within the walls) Nicosia
The Asagi Baf Masjid and Ottoman Fountain in Pafos
The Koprulu Haci Ibrahim Cami Mosque in Limassol
The Buyuk Mosque in Limassol
The mosque in Prastio, Limassol
The mosque in Plataniskia, Limassol
The mosque in Sarama, Pafos
Mosque in Petrofani, Larnaka
Mosque in Pitaragou, Pafos
The mosque in Tremithousa, Pafos
The mosque in Agios Ioannis, Pafos
The mosque in Alaminos, Larnaka
The mosque in Pentakomo, Limassol
The mosque at Stavrokonnou, Pafos
The mosque in Maronas, Pafos
The mosque in Armenochori, Limassol
The mosque in Kivisili, Larnaka
Mosque in the village of Mallia, Limassol
The mosque in the village of Souskiou, Pafos
The mosque in the village of Maroni, Larnaka
Mosque in the village of Kouklia, Pafos
Mosque in the village of Korakou, Nicosia
Mosque in Evretou village, Pafos
Mosque in the village of Anogyra, Limassol
The mosque in the village of Kotsiatis, Nicosia
The mosque in the village of Flasou, Nicosia
The mosque in the village of Pyla, Larnaka
The mosque in the village of Kellia, Larnaka
Mosque in the village of Orounda, Nicosia
Mosque in the village of Akaki, Nicosia
Mosque in Agios Thomas, Limassol
Mosque in the village of Koilani, Limassol
Mosque in the village of Koutrafas, Nicosia
Mosque in the village of Denia, Nicosia
Ziya Pasha Mosquein Dali
The Taht-el-Kale mosque (within the walls) Nicosia
The mosque in the village of Klavdia
Arablar mosque (Stavros tou Missirikou - within the walls) Nicosia
Bayraktar Mosque (within the walls), Nicosia
Omeriye Mosque (within the walls), Nicosia
The mosque in the village of Peristerona
The mosque at Pelathousa, Pafos
The mosque in the village of Chrysochous
The mosque in the village of Timi, Pafos
The mosque in the city of Pafos
Djami Kebir (Buyuk) Mosque (Great Mosque), Larnaka
The Zoukhouri mosque in the city of Larnaka
The Tuzla Mosque in Larnaka Town
The mosque in the village of Kalo Chorio, Larnaka
The mosque in the village of Pyrga
The mosque in the village of Agia Anna
The mosque in the village of Marie
The mosque in the village of Menogia
The mosque in Lefkara, Larnaka
The mosque in Kofinou, Larnaka
Hala Sultan Tekke, Larnaka
The mosque in the village of Pera Chorio
The mosque in the village of Tochni
The mosque in the village of Kalavasos
The mosque in the village of Potamia
The mosque in the village of Agia Varvara
The mosque in the village of Asprogia
The mosque in the village of Androlikou
The mosque in the village of Melandra, Pafos
The mosque in the village of Fasoula
The mosque in the village of Agios Georgios
The mosque in the village of Akoursos
The mosque in the village of Yialia
The mosque in the village of Mandria, near Pafos
The mosque in the village of Kato Arodes
The mosque in Terra, Pafos
The mosque in the village of Agios Nikolaos in Troodos
The Great Mosque (Kepir Mosque) in the city of Limassol
The mosque in the village of Avdimou
The mosque in the village of Mallia
The mosque in the village of Kantou, Limassol
Meskit Mosque in the city of Limassol
The mosque in the village of Silikou, Limassol
The mosque in the village of Moniatis
The mosque in the village of Mouttagiaka
The mosque in the village of Kato Polemidia
The mosque in Episkopi, Limassol
The mosque in the village of Paramali, Limassol
The mosque in Pano Polemidia