Pourgouri Pilafi(Crushed wheat) Recipe
A favourite dish for kids!
Pourgouri is a cereal food made from crushed wheat. Can be served with yoghurt-(a favourite combination for kids in Cyprus) or to be serve with meat dishes.
| | | | | |
| --- | --- | --- | --- | --- |
| Prep time | Cook time | Total time | Difficulty Degree | Serves |
| 8 minutes | 12minutes | 20 minutes | Easy | 4 persons |
Yield: Makes 4 portions(For 2 adults and two children)
You will need:
250 g. pourgouri(crushed wheat)
69 g. fidellini(vermicelli pasta)
1 medium onion chopped
1 medium tomato chopped
125 ml tomato juice
1 tbs dry powder vegetable stock dissolved in 750 ml water, or 750ml fresh vegetable stock
4 tablespoon organic extra virgin olive oil
1 teaspoon sea salt and a pinch of ground white/black pepper-(optional) to taste
Preparation:
1.In a casserole put the olive oil, add the chopped onion and vermicelli and saute until it get a golden brown colour.


2.Add the tomato juice and the vegetable stock and put on high heat. When start boiling add the pourgouri, stir for a minute,add the chopped tomato and season with salt and pepper.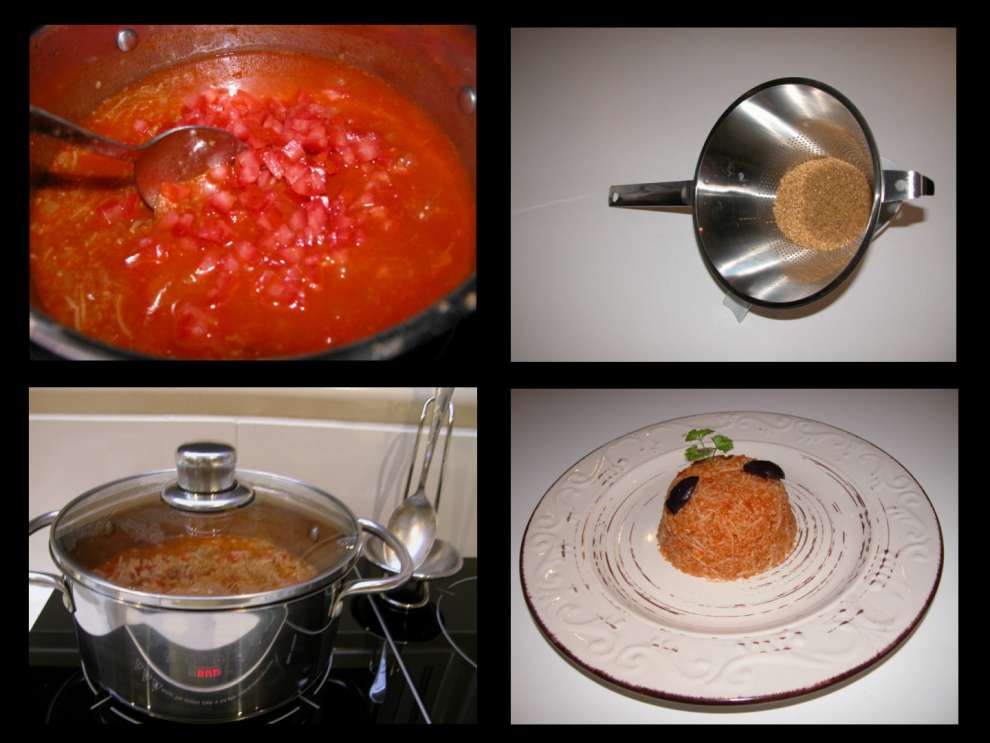 3.Put the lid on the casserole, move away from the fire and leave it covered for 10 minutes (all liquids will be absorbed).
4. Now is ready to be served.
| | |
| --- | --- |
| Tip of the Chef | Garnish with black olives/cherry tomatoes, parsley. |
| | |
| --- | --- |
| Tip of the Nutritionist | Pourgouri can be replaced with whole wheat crushed wheat for more fiber and protein content. |