Reflect is shaping the future of Cyprus...
It took place on 9 and 10 May with 1300+ participants, with great speakers and the famous Sofia!
On May 9th and 10th Carob Mill was filled with 1300+ attendees including entrepreneurs, policy makers, business people and students who attended the mind-blowing futuristic festival Reflect. With 40+ great speakers including the phenomenal Sophia and many other extraordinary entrepreneurs, Reflect was a real inspiration, setting the barrier to the top.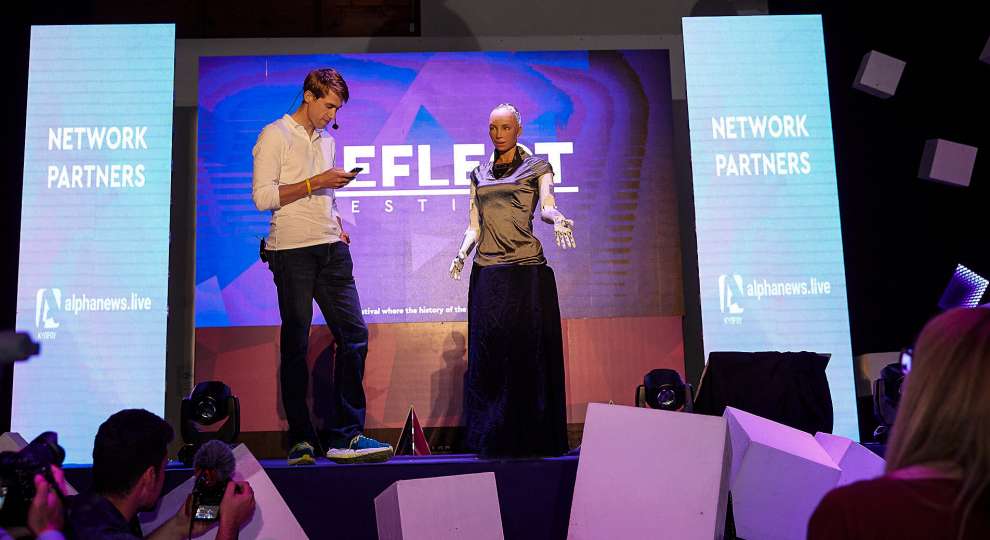 The show was opened by Sujay Tyle, who entered Harvard at age 15 and is currently the CEO and Co-Founder of Frontier Car Group (FCG), which raised over 200 million dollars. All the attendees learned about technology, sustainability, future of work and communication, mobility, education, and many more.
Sophia expressed her amazement to be in Cyprus and confessed that she really wants to return back at some point soon. The festival was full of amazing VR experiences, a unique Selfie Bot, many futuristic elements and various insightful workshops.
On board for this year were European University Cyprus (Golden Partner), Hellenic Bank, Elias Neocleous & Co LLC, KPMG, CableNet, RISE (Silver Partners), CIPA (Cyprus Investment Promotion Agency, Research Promotion Foundation, Jarvify, Heart Cyprus, Alphanews Live, Cyprus Mail, Premiere Media Group, Bolt, Enallaktiki Agenda, Slido, Moi Ostrov, Russian Radio, Naviaddress. All sponsors are forward-thinking organizations who embraced and supported this unique initiative.
"We took the spontaneous decision 2 years ago to organize a conference in Cyprus which would be the foundation of something bigger. The first year we hosted 250 attendees. This year Reflect became a festival with over 1300 attendees. We have already started working on taking the festival even further and having even bigger IMPACT.
Our speakers and attendees coming from 35+ countries were amazed by Cyprus and the benefits our country has to offer. We are in discussions with few of them to extend their activities here.
We want to make REFLECT a platform where each one of us can benefit from, connect with international entrepreneurs, investors, companies, media and enabling us to shape the future all TOGETHER." Stylianos Lambrou
Cyprus received international recognition through Reflect festival and was recently featured in top-notch worldwide media such as Forbes.com, Tech.eu and many more.