"Save the Bees", was the message that came across loud and clear at the Ora Bee Festival on the 19th May 2019.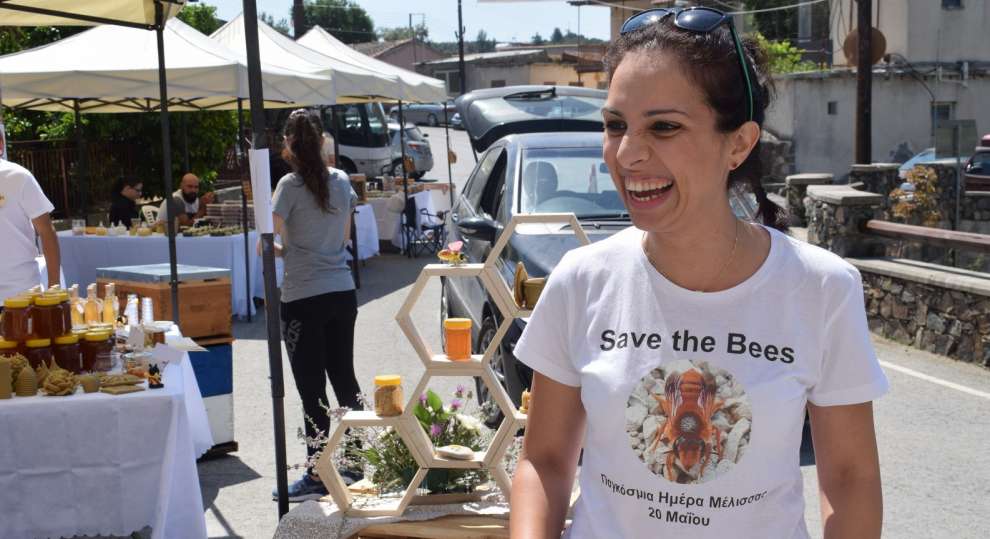 During a vey interesting presentation, Dr Andreas Thrasyvoulou, lecturer at the Aristotelion University of Thessaloniki, pointed out that if we carry on killing off bees at the rate we are doing, we humans will become extinct. Bees will survive! "Bees have been around for about 50 million years and not changed much," he said. "Humans have been around for some 260,000 years and changed a lot." I am always mystified as to how scientists analyse such things. One day I must read up on their methods.
"We live in a beautiful world where all work together for the common good in harmony," he explained. "I am of course not talking about the human world but about the natural world and more specifically about the world of bees."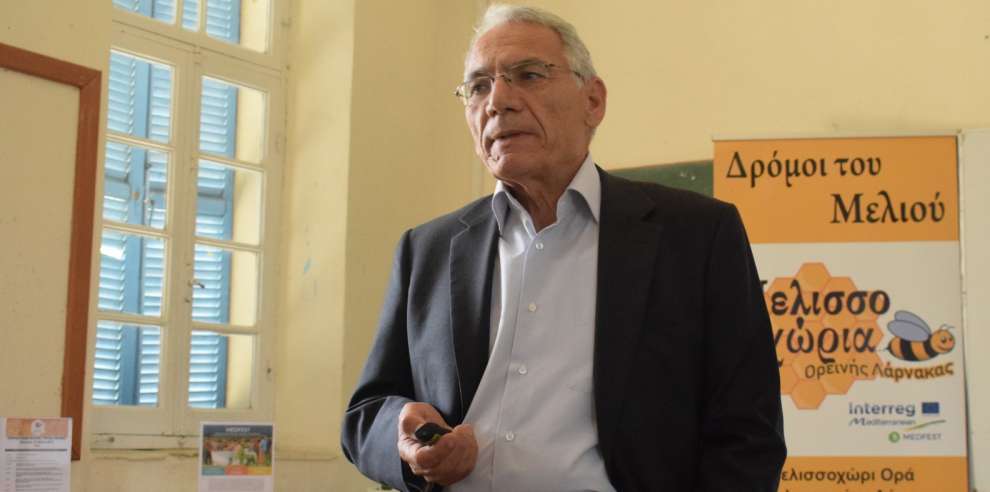 He told us of all sorts of wonderful things that happen in the world of bees, how they decide on each bee's activity in the dark of the beehive, how one bee may have a mission to carry pollen from one tree to another a whole kilometre away, of the extraordinary sense of smell they have, of their decoding of colour to know which flowers have nectar and which do not.
Nine villages of the Larnaca District in the foothills of Troodos (now branded as Honey Villages) in conjunction with the local authorities, the Larnaca Tourism Board, the Deputy Ministry of Tourism, the Pancyprian Association of Beekeepers and professional Beekeepers, and the Technological University of Cyprus, are following the example of the bee communities and working in unison to protect the bees. A lot of training and capacity building of the local communities have taken place under the MEDFEST European Funded program in order to create a common vision and mission for the implementation of the Honey Routes in the area, which they will include three thematic Festivals and a lot of activities.
Ora is the first of nine villages to install a bee hotel created by my friend Pete Gallagher of Lageia Village Crafts. Eight other ones have been ordered from him by other nearby villages. I learned that not all bees exist to make honey. There are also "solitary" bees whose purpose in life is to pollinate plants. They are dying off at a depressing rate because of modern pesticides. To carry on like this will inevitably lead to the destruction of plant life and ultimately humans will have no food. The bee hotels that are being set up give the bees somewhere safe to nest and rebuild their population.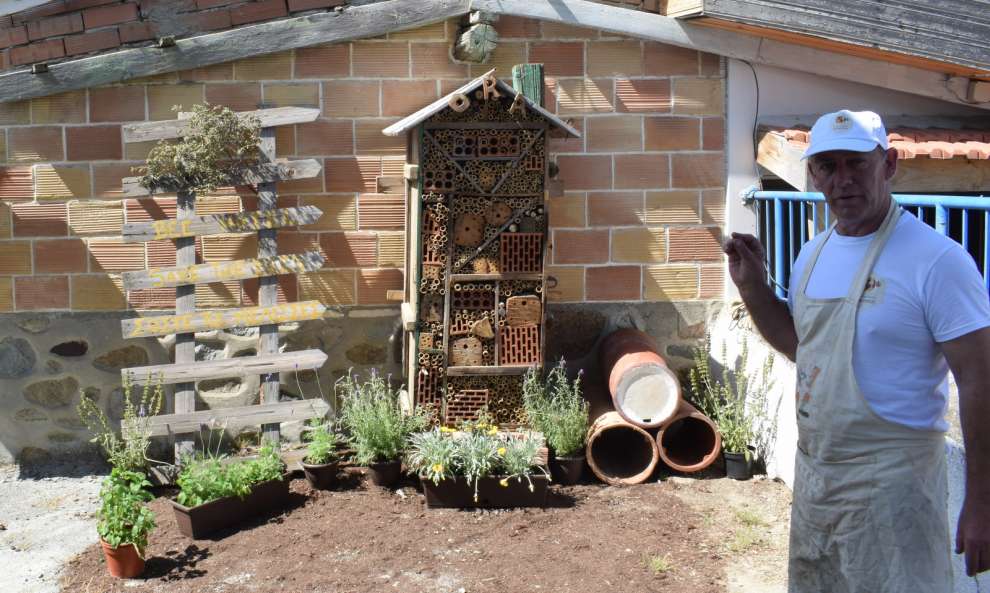 The EU Funded MEDFEST project, is helping the local villages to create and promote the "Honey Routes" in order to preserve the traditional Beekeeping activities and recipes as a part of their cultural heritage and develop thematic tourism packages based on Honey and Beekeeping. These would be developed both in the context of environmental good practice and economic progress through the encouragement of tourism. Co-ordinating the villages is the dynamic Yioula Papakyriacou whose stand at the fair offered sweet-smelling honey-based soaps with tangarine and other essential oils from the Honey villages.

Part of this would be through the promotion of honey gastronomy. Many foods and delicacies can be prepared with honey. At the festival, chicken souvla coated with honey was being offered. It was popular. I was told that there was a fifteen-minute wait for this, whereas plain chicken was instantly available. In Greece and Cyprus "Loukoumades" are a popular delicacy. These are a kind of deep-fried doughnut coated in honey. You'll always find them at fairs and festivals. Bourekia with Anari cheese and a drizzle of honey are a popular traditional Cyprus sweet. At the festival were other examples of honey foods such as honey-based "Loukoumia" or "Cyprus Delights".

We also found other foods from this key bee area of Cyprus, foods that were not actually honey-based but relevant to bee protection because of their having been produced in a natural way. "All my produce is organic," proudly said Georgia Gioanou, one of the stallholders. She sold honey but also lots of other fresh produce like bread and eggs from free-range chickens.

Then there was the halloumi from the halloumi lady on the way to Vavla from Choirokoitia. The goats are not kept in a farm. They wander across the countryside under the watchful eye of her husband, a Shepherd. The organiser, of the festival, Yioulla Papakyriakou, had a stand selling not just food, but honey-based soaps. One stand had Christian icons made of beeswax – quite a feat of craftsmanship. Bee activities were also being promoted. My friends Georgia and Costas were not just selling their honey but also "Be a bee-keeper for a day" events, complete with protective costumes resembling costumes. Wines and Tours is planning on combining such a day with a wine tour. My previously mentioned friend, Pete Gallagher, was there with a stand representing the neighbouring village of Lageia. Other people's honey products were on display, but his own products were village crafts, polished with beeswax.
Those of you who are familiar with Cyprus festivals will know that a festival here would not be complete without a stunning display of traditional dancing. Ora did not disappoint. Here is a little sample of what adds to the "kefi".