"Masha and the Bear" are coming to Cyprus!
An interactive Christmas show that will impress everyone
The well-known story of "Masha and the Bear", which is a phenomenon in children's television series with millions of viewers from all over the world, is coming to Cyprus, this December with a big Christmas show that will impress everyone with the impressive scenes and costumes!
The story is based on a famous Russian folk tale. However, in recent years, it has become one of the most popular animated television series. The Russian television series "Masha and the Bear", which began ten years ago, has become a worldwide success, running in 120 countries, and its YouTube channel is one of the ten most popular in the world!
The big Christmas theatrical production finally comes to Cyprus for 3 shows (2 in Greek and one in Russian language).
The "Masha and the bear" is an exciting interactive show for the whole family by the general producer of the most popular series organised by professional filmmakers, choreographers and true illusion magicians. The show is accompanied by songs and exciting scenes.
The kids will have the chance to watch the incredible adventures of Masha, a small cute but naughty Russian girl, and her best friend, a good bear, and have a lot of fun!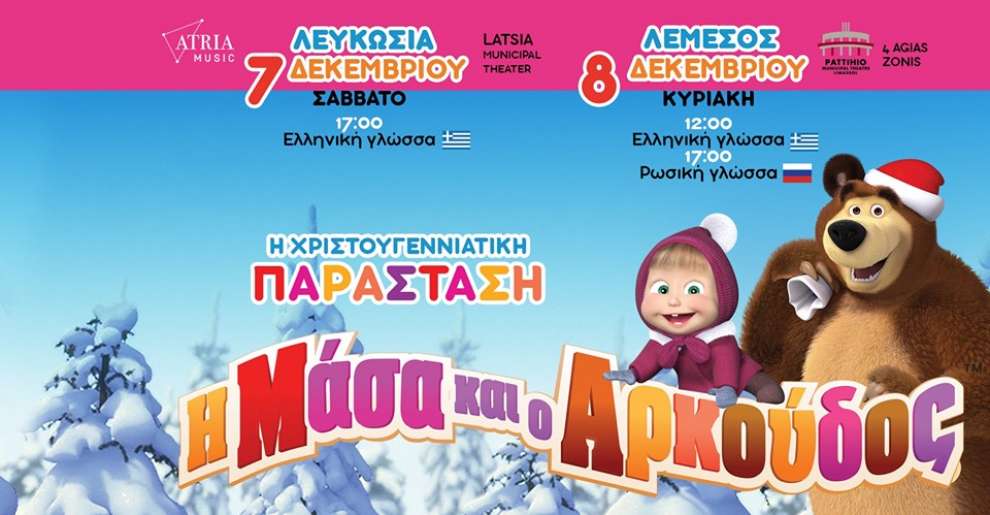 But who are these two heroes?
Masha is a girl living in the woods with her pig, her goat and her dog. It is full of energy, endless curiosity and wants to try everything new. This, however, often causes smaller or larger problems. She is also terribly friendly and treats everyone as if she knows him for years.
One day she left her grandparent's house because she wanted to explore the world and live new adventures. On her way through the woods, she fell upon the house of a friendly and kind bear!
The little Masha will face many dangers, as a forest always hides traps. But with the help of her best friend – the bear, she will meet many friends who will truly love her!
And as everything begins to roll in wonderfully, Christmas is coming. What adventures will our beloved heroes live in the waiting for Santa Claus?
"Masha and the Bear" is a fun story that breaks stereotypes, emphasising to friendship, even between two completely different worlds.
The show intelligently manages to entertain and convey educational messages to both parents and children. "Masha and the Bear" educates children on issues of true friendship, caring for one another, freedom of creativity and basic skills, in a clever way.
Live with your children the magical adventures of "Masha and the Bear" in a great Christmas theatrical production this year in Cyprus!
Program of the shows:
December 7, 2019, at 5:00 pm, at the Latsia Municipal Theater, Nicosia (Greek language)
December 8, 2019 at 12:00 pm (Greek) and 5:00 pm (Russian) at the Patichio Theater, Limassol
Tickets: AtriaMusic.com